Business trading beyond the lockdowns
As we welcome people back to the city, noise levels across our area will increase. We're here to help businesses welcome everyone back safely while supporting economic recovery.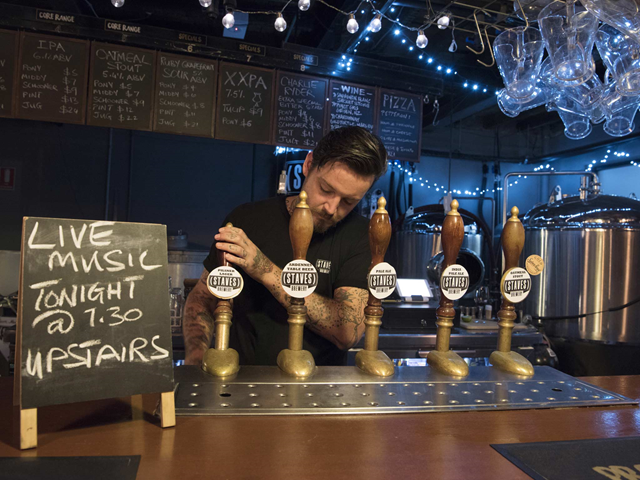 City of Sydney
GPO Box 1591

Sydney 2001
As our city reawakens, let's all work together
The pandemic and extended lockdown has greatly impacted Sydney, resulting in the city losing its hustle and bustle.
As we welcome back locals, workers and visitors, this hustle and bustle will start to return.
While we're excited for the city to come to life once again, we also understand this may be a challenging time for some residents. Noise from nearby venues, particularly in areas where patrons will now be permitted to dine and drink outside, will increase.
We ask our residents for patience and to support local businesses to slowly recover so our city can thrive once again.
Maintaining harmonious and vibrant neighbourhoods
We all want to live and work in harmonious and vibrant neighbourhoods. Help reduce night-time impacts on your neighbours by connecting early, getting to know each other and working together to manage night-time sound.
We recommend you:
Changes to help flexible trading
If you run a cafe, restaurant, bar or pub in the City of Sydney local area there are a number of planning regulation changes now in place to make doing business easier and safer after lockdown.
Changes include:
These NSW Government and City of Sydney changes may contribute to increased noise levels across our city. The resources below aim to help businesses foster better understanding and tolerance with residential neighbours.
Our approach to managing noise complaints
We will continue to take a risk-based approach to compliance, assessing any issues against the health, safety and welfare of the community.
To aid economic recovery, current NSW ministerial orders allow for some exemptions from development consent requirements. The table below summarises these exemptions.
We encourage businesses to proactively engage with your neighbours to establish ongoing dialogue to enable quick action to resolve any complaints when they occur.
Where possible, we will work with venues to try and resolve noise or other problems without taking regulatory action. Employees from our cultural, planning and health and building teams are available to meet with venue operators to work through issues raised in complaints and negotiate solutions.
If the same noise complaint is reported repeatedly by the same person, and our authorised employees assess that a specific noise is not deemed to be offensive under the law, we will not take further action.
Note, we do not threaten venues with closure in relation to noise complaints – under the NSW Protection of the Environment Operations Act, potential options include verbal or written warnings, prevention notices, noise abatement directions, penalty infringement notices, orders or court attendance notices.
Covid-19 response measures – temporary extension
Complaints might include businesses operating without the required approval, not complying with conditions of approval or where activities associated with business operations cause health, safety or amenity issues.
The activity listed below is permitted with the appropriate permits and planning approval.
| Potential noise source | Temporary changes |
| --- | --- |
| Footpath dining/outdoor entertainment | Extended issue of City of Sydney's outdoor dining and entertainment permits (Central Sydney only) trial for restaurants, bars and clubs to extend operating capacity |
| Retail trading hours | Extended hours, as part of changes to the planning system* |
| Takeaway facility operations | More flexible conditions including food and drink takeaway, food truck operations and dark kitchens* |
| Home business operating hours | Allowed 24 hours a day* |
| Retail deliveries and waste collection | Extended hours, as part of changes to the planning system* |
| Construction sites | Allowed to operate the same weekday hours on weekends and public holidays* |
| Vehicle sanitation stations | Allow for temporary stations to be built to provide professional cleaning for taxis, ride share and community transport vehicles* |
*Part of the NSW Government response ministerial order under the Environmental Planning and Assessment Act 1979.