Supporting recovery in Sydney city centre
We're working with the NSW Government to encourage locals and more visitors safely back into the city.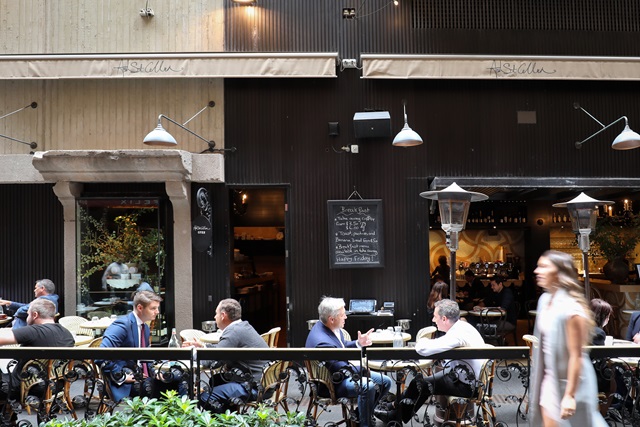 Activating the city for everybody
We're working closely with businesses to ensure our plans continue to support them, while ensuring safe and equitable access for all residents and visitors.
Our plans include:
Events and programs
City of Sydney-produced major events Sydney Christmas, Sydney New Year's Eve and Sydney Lunar Festival will draw people back into the city centre.
We're contributing $12 million to events and activations to enliven the city centre and surrounds. As restrictions ease, more activations and events from City of Sydney grant recipients will take place across the city. Visit What's On to see what's coming up.
We've curated a program of roving entertainment over the summer months, with performances throughout the city centre and across high streets in Redfern, Glebe, Surry Hills, Darlinghurst, Erskineville, Newtown and Kings Cross.
On weekends in January and February 2022, there'll be one-off all-day street closures on 6 village high streets in Glebe, Kings Cross, Surry Hills, Redfern, Pyrmont and East Sydney. Locals can rediscover their neighbourhood while enjoying the roving entertainment.
Outdoor dining program and fee waivers
We'll continue to waive outdoor dining permit fees until June 2022. This will make it easier for restaurants, cafes and bars to turn footpaths, roads and car spaces into outdoor dining spaces.
Grants
$4 million in our grants for businesses will help reactivate the city centre. New business and creative grants will be launched in February 2022 to enable businesses and creatives to work together to develop new, unique attractions in the city centre and surrounds.
We continue to support community organisations in urgent need through the community emergency quick response grant program.
Partnering with NSW Government
In 2020, the City of Sydney and NSW Government established a $20 million CBD revitalisation fund to boost the city centre economy and support businesses, and we'll continue to work on this together.
The City of Sydney is also working closely with Destination NSW to develop a local and domestic visitor marketing campaign for Sydney, with a focus on cultural offerings.
In the summer of 2020, we worked with the NSW Government to present Sunset Piazza and Culture Up Late.