Training for residential building managers
In partnership with Green Strata, we developed Australia's first comprehensive sustainability training series for the group.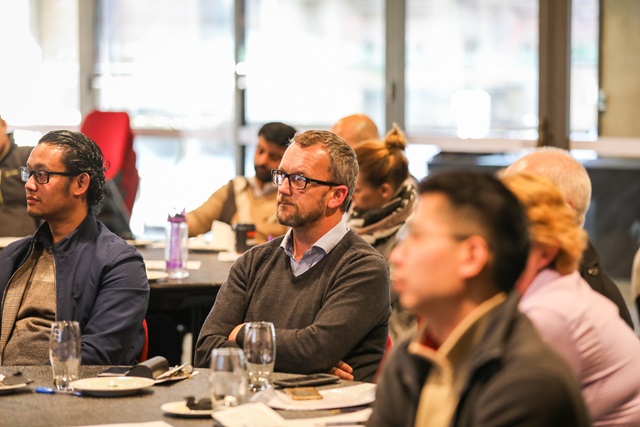 Sustainable Apartments
Stay up-to-date with strata living, sustainability and resilience and receive our newsletter.
Grants team
We'd like to help you choose the right grant and provide tips for a successful application.
Management of apartment buildings and strata communities is changing rapidly in our city.
Increasingly complex plant and equipment and operational challenges, coupled with rising energy and water costs, require greater efficiency and planning. This is vital for the environmental, social and economic future of strata communities in Sydney.
Residential building managers will be leading in ever-changing ways over the coming decade, particularly with climate change and resilience impacts facing Sydney.
This is why we, in partnership with Green Strata, developed Australia's first comprehensive sustainability training series for residential building managers. First delivered in 2018, this training is increasing the capacity of building managers to lead in the management of these buildings and communities into the future.
The course consists of 5 half-day modules held in the city centre. We administer the program, delivered jointly with NABERS and Green Strata.
You will be able to implement what you learn in the buildings you manage.
NABERS
NABERS is the National Australian Built Environment Rating System.
The training focuses on understanding the new energy and water NABERS star rating for apartment buildings and the integral role this plays for building managers.
It also equips participants to:
lead on energy and water efficiency and drive down costs for your buildings
ensure best practice operations, facilitate upgrades, contribute to monitoring and record keeping and be proactive with capital works planning
future-proof your buildings and work with owners to ensure good governance to meet expectations of your building community.
Benefits
Manage multi-million dollar assets more efficiently
Identity savings opportunities
Track your building's performance and improvement over time
Differentiate yourself by offering higher levels of service to your owners corporation.
Case studies
Explore the significant financial and environmental benefits that many of our participants have received through Smart Green Apartments.
Want to know when the next training course is on?