Aboriginal histories
Aboriginal peoples have lived in Sydney for thousands of years and the City celebrates their historic ties to the land.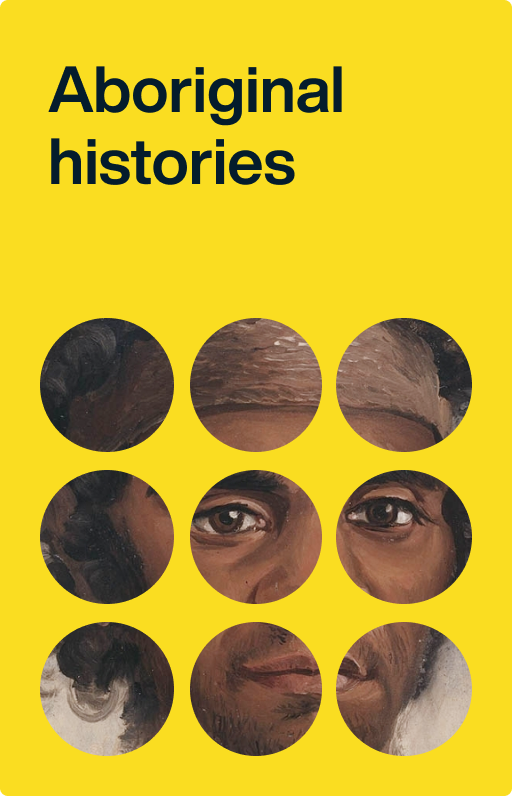 Aboriginal peoples have always lived in Sydney.
The original Aboriginal inhabitants of the City of Sydney local area are the Gadigal people. The territory of the Gadi (gal) people stretched along the southern side of Port Jackson (Sydney Harbour) from South Head to around what is now known as Petersham. Their southern boundary is thearea that now forms the Alexandra canal and Cooks River.
There are about 29 clan groups of the Sydney metropolitan area referred to collectively as the Eora Nation. The 'Eora people' was the name given to the coastal Aboriginal peoples around Sydney. 'Eora' means 'here' or 'from this place'. The Gadigal are a clan of the Eora Nation.
Following the arrival of the First Fleet in 1788, the British encountered Aboriginal people around the coves and bays of Port Jackson. Aboriginal communities here were both generous and combative towards the colonisers. Many places around the harbour remained important hunting, fishing and camping grounds long after Europeans settlement, and continue to be culturally significant today.
Despite the destructive impact of first contact, Gadigal culture survived. As the town of Sydney developed into a city, the Gadigal were joined by other Aboriginal people from around NSW to live, work and forge relationships with the urban Aboriginal community.
Sydney's inner suburbs have long been a magnet for Aboriginal peoples seeking work opportunities, shelter and connections with community and family. The 'big smoke' provided work opportunities shelter and reinforced community connections.
There was a growing political activism within Sydney's Aboriginal community over the 20th century, which led to the development of support systems and facilities for urban Aboriginal people.
The suburb of Redfern was a particular focus for activism around civil and land rights for Aboriginal and Torres Strait Islander people.
Education and schooling nurtured and empowered Aboriginal people living in Sydney in the 20th century. With the growing self-determination movement in the late 1960s, Aboriginal people created and managed their own learning opportunities and initiatives.
For Sydney's Aboriginal community, sporting and leisure activities have been a way to reinforce social connections, but they also had a political dimension.
Music, dance and theatre are an important means of cultural, political and spiritual expression for urban Aboriginal and Torres Strait Islander people.
Many artists and performers have been supported and encouraged by Aboriginal organisations. Visual and artistic expression have been integral to Aboriginal and Torres Strait Islander cultures. Training opportunities in Sydney have led to an extraordinary range of art practices, exhibitions, galleries and artists' cooperatives.
Research into Aboriginal people's history in Sydney is continuously being carried out by the City's History Unit in collaboration with the Aboriginal and Torres Strait Islander Panel, which feeds into and supports the Eora Journey.
Barani: a living history
Barani is an Aboriginal word of the Sydney language that means 'yesterday'. The Barani website provides histories of people, places and events in the local area that are associated with the histories of Sydney's Aboriginal communities. It highlights Sydney's Aboriginal journey: its places, its history and its people.
The Barani website includes:
thematic essays that explore aspects of Sydney's Aboriginal history
a map that shows places that have historical associations for Aboriginal and Torres Strait Islander people
a timeline that highlights historical events that have occured in Sydney that are of importance to Aboriginal and Torres Strait Islander people
biographies of significant Aboriginal and Torres Strait Islander people and organisations that have strong associations to Sydney
resources including books, films, images and websites
historical and cultural events on our news page.
Aboriginal history content was first developed for the City of Sydney website in 2000 to coincide with the Sydney Olympics; this content was later enhanced with images, audio and interactive and launched as the Barani website in 2002. Barani won a NSW Premier's History Award in 2002 and had a major upgrade in 2013.
The Barani website contains accessible and well researched information about Aboriginal and Torres Strait Islander people and their ongoing connection to Sydney.
It is a highly regarded, authoritative website that is used by schools, universities, tourists and locals. Aboriginal history research work is ongoing and the Barani website is constantly growing resource.