Project Status:

Open for feedback

We invite your feedback on proposed changes for this area to include new private, affordable rental and social housing dwellings.

Public consultation period

to
Lauren Flaherty
Senior Community Engagement Coordinator
Siobhan Fox Roberts
Senior Specialist Planner (Contributions)
Tamara Bruckshaw
Manager Major Development Projects
Why we're doing this
We invite your feedback on changes to the planning controls for 600–660 Elizabeth Street, Redfern. The site is a full street block bounded by Elizabeth, Kettle, Walker and Phillip streets. It's owned by NSW Land and Housing Corporation.
The proposed changes will increase the floor-space ratio and building height to permit redevelopment of the site for new market, affordable rental and social housing in 4 buildings, 4 to 16 stories in height. The current proposal allows for around 300 dwellings.

The City of Sydney originally proposed that the development include at least 30% of total residential floor area for the purposes of social housing and 10% of total residential floor area for affordable housing. This has been reduced by the NSW Government to require at least 30% of total residential floor area to be used for the purposes of a mix of social housing and affordable housing.
The site is currently partly occupied by the South Sydney Police Citizens Youth Club. The proposed changes allow for a new 3,500 square metre community facility on Elizabeth Street.
The documents on public exhibition are:
a planning proposal to amend the Sydney Local Environmental Plan 2012
a draft design guide.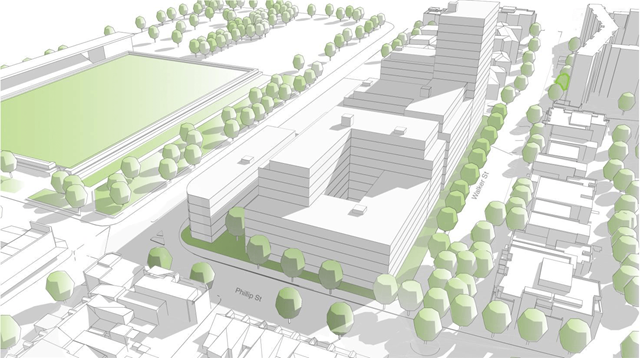 Public consultation documents
Supporting and background documents
How you can give feedback
Consultation closes at 5pm on Tuesday 20 July.
There are a few ways you can provide feedback.
Take our survey

Attend our community drop-in sessions

Speak with the City of Sydney about the proposal.

Wednesday 9 June
4pm to 6pm

Wednesday 23 June
4pm to 6pm

PCYC South Sydney
638 Elizabeth Street
Redfern NSW 2016

Send your feedback

You can also give feedback by email to [email protected] or post it to:

Senior Project Officer, Strategic Engagement and Community Relations
City of Sydney
Town Hall House
Level 7
456 Kent Street
Sydney NSW 2000

Please quote 'Reference X011236 Elizabeth Street Redfern'.

Talk to us
Lauren Flaherty
Senior Community Engagement Coordinator
Siobhan Fox Roberts
Senior Specialist Planner (Contributions)
Tamara Bruckshaw
Manager Major Development Projects
Next steps
We'll consider all feedback and report the outcomes to Council and the Central Sydney Planning Committee.
Feedback may be published in publicly available reports at the end of the consultation period. Your name or organisation's name may appear in these reports with your feedback attributed. If you would like your feedback to be kept confidential, please let us know when making your contribution.
Land and Housing Corporation's planning proposal request and supporting documents