Your say on proposed planning controls for North Alexandria and the southern enterprise area
The proposed planning controls will increase employment floor space, enable land dedication for a legible network of public streets, lanes and open space and retain the low-scale built form in parts of North Alexandria.
Project Status:

Open for feedback

We invite your feedback on planning controls for the southern enterprise area.

Public consultation period

to
Speak up. Sign up.
Get our regular newsletter to have your say.
Why we're doing this
The proposed changes will increase opportunities for industry, business and jobs growth in the business and industrial zones in the south of the city.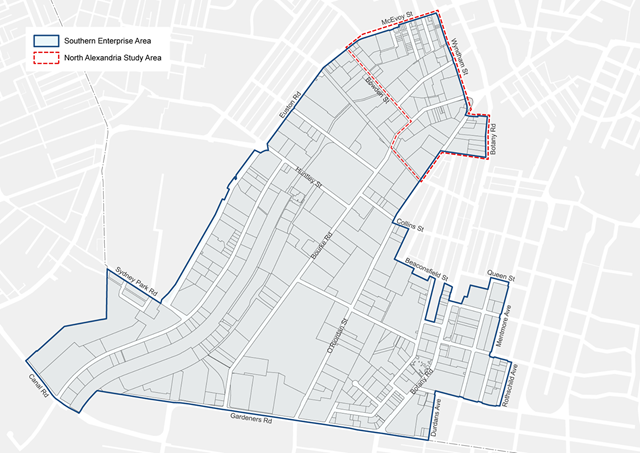 What we're doing
We're proposing changes to the planning controls in the southern enterprise areas. The proposed changes mostly affect the North Alexandria precinct, but some others apply to the whole area.
The proposed planning controls will:
increase on some sites the community infrastructure floor space available in the precinct, creating an additional 26,500sqm of floor space for business and employment
increase the maximum height on some site while maintaining a careful transition from the tall buildings in the Green Square town centre to the fine grain heritage buildings in the north of the precinct
provide diversity in the built form that will support a range of economic activities including industrial, commercial, office, entertainment, creative industries, urban services and affordable spaces for innovation
encourage the dedication of land for roads, through site links and setbacks to improve connections through the precinct to public transport and other areas to encourage day/night activation.
Other changes are proposed in the wider area to future roads and public spaces.
This consultation includes a planning proposal to amend the Sydney Local Environmental Plan 2012, and a draft development control plan to amend the Sydney Development Control Plan 2012.
Planning proposal and draft development control plan
Planning proposal contains the background, objectives, explanation and justification of the draft controls. These relate to revised maximum building heights and maximum community infrastructure floor-space ratio controls in North Alexandria. The proposed planning controls enable a cohesive built form, transitioning from tall commercial office buildings at Green Square town centre, to the low rise adaptively reused industrial warehouse spaces to the north and mid-rise flexible spaces in between.
Draft development control plan contains height in storeys, upper level setback and ground floor setback provisions that will facilitate a smooth transition in heights, bulk and scale across north Alexandria. Proposed land dedications support enhanced public domain outcomes. It also covers heritage conservation, built form and design, active frontages and street level tenancy design, street cross sections and updated locality statements. It proposes various changes to provisions, maps and figures to amend existing or introduce new setbacks, active frontages, new streets and lanes, and continuous awnings in the broader southern enterprise area.
These documents provide background to the proposals
Next steps
We will consider all submissions and report the results to Council and the Central Sydney Planning Committee. If approved, it will be sent to the Department of Planning, Industry and Environment for final approval.
How you can give feedback
Consultation closes at 5pm on Monday 13 December 2021.
Complete our feedback form

Email or post your feedback

You can also give feedback by email to [email protected].

Please quote 'Reference X025568.013 – Enterprise Area Review'.

Talk to us
Feedback may be published in publicly available reports at the end of the consultation period. Your name or organisation's name may appear in these reports with your feedback attributed. If you would like your feedback to be kept confidential, please let us know when making your contribution.
Other ways to give feedback