Aboriginal and Torres Strait Islander Advisory Panel
Provides advice on matters of importance to our communities.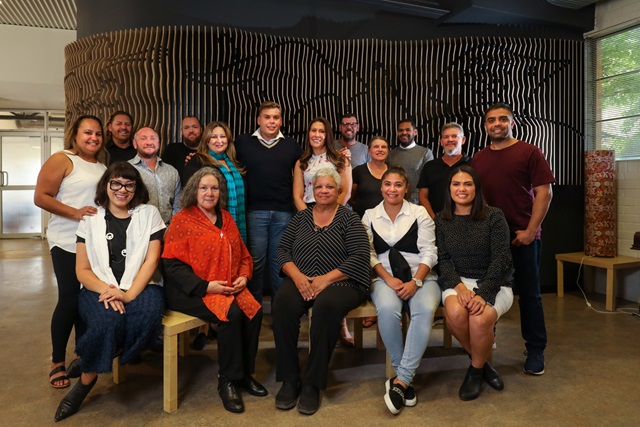 Call for nominations
We're calling for nominees to join this panel. Nominations open until 17 November 2022.
Aboriginal Community Engagement Coordinator
Information and advice
Council appointed the first Aboriginal and Torres Strait Islander Advisory Panel on 15 December 2008. Made of community and industry professionals, the panel's members are from Aboriginal and Torres Strait Islander backgrounds and live, work or study in the local area.
Each member brings a wealth of knowledge and skills to provide advice on matters of importance to Aboriginal and Torres Strait Islander communities. Members also review our Aboriginal and Torres Strait Islander protocols and make a positive contribution to our relationship with Aboriginal and Torres Strait Islander individuals, organisations and leaders.
The Aboriginal and Torres Strait Islander Advisory Panel meet at least 6 times a year.
Find out more about the 2018 to 2021 panel members below.
They were photographed at Redfern Community Centre. The artwork is called Mana Ngurang by Charles 'Chicka' Madden, Nicole Monks and UFO.
Panel members
Medika is a Gunnai, Gunditjmara and Gureng Gureng woman from Victoria. She's currently a director at Winda Film Festival celebrating Indigenous films from around the world. She's also the coordinator of MediaRING, a collective of media organisations that help enhance career opportunities for Indigenous people in the media industry.

Medika comes from a performing arts background, performing and facilitating dance workshops around the country. Medika has worked in community health for several years and later in community engagement with Deadly Vibe.

Medika also worked with NITV, ABC and with independent businesses on various projects and productions. In 2014, Medika moved to Canada where she became the guest services manager with the world's largest Indigenous film festival, ImagineNATIVE in Toronto. After her time in Canada, being immersed in the Indigenous film industry, Medika moved back to Sydney and helped establish the Winda Film Festival.

Co-Chair

Ryan Donohue-Pitt is a proud Dunghutti and Torres Strait Islander man who grew up on the mid north coast in Kempsey. Ryan has lived in Sydney for the past 8 years, studying a Bachelor Business Administration at the University of Technology Sydney. He's currently a Project and Policy officer at Empowered Communities which provides a platform for Indigenous people in Inner Sydney to unite with one voice to design and direct tailored solutions for the community's needs.

Ryan has a 6 year background in finance working at ANZ and 5 working within Kempsey and Sydney non-government organisations and Indigenous organisations.

Sara is a Gamilaroi woman with family connections to Moree but was born and raised on Gadigal country around Redfern, Waterloo and Alexandria. Sara has lived, worked and studied in the local area for most of her life and currently works at Aboriginal Affairs NSW in communication and engagement.

Sara is passionate about working with community and her past volunteer and community experience includes coordinating the Inner City NAIDOC Family and Sports Day, volunteering for the Redfern All Blacks Rugby League Club and participating in the Inner City Aboriginal Women's Consultative Group and the National Aboriginal Sporting Chance Academy Mentoring program.

Sara was a member of our first Aboriginal and Torres Strait Islander Advisory Panel in 2008.Through this new appointment she hopes to ensure the voices and aspirations of the Aboriginal community in the local area are reflected in Council's policies, practices and projects.

Originally from Macksville on the NSW north coast, Tim is a Gumbaynggir man now based in Sydney. Tim is also an accomplished musician, a student of the Eora College, a classically trained pianist, and is lead singer and keyboard player for Indigenous reggae band, Green Hand Band. Tim also has his own show on Koori Radio called Social Change.

Tim is a valued member of the local community and a long serving member on the Tribal Warrior Association board as its public officer.

Frank is a Koori from northwest NSW who has over 15 years experience in the arts sector. He's currently the general manager of Gadigal Information Service and previously worked to deliver projects for the Aboriginal and Torres Strait arts section of the Australia Council for the Arts. Frank also co-hosts the nationally syndicated radio program The Indij Hip Hop Show on Koori Radio and manages his own contemporary music business.

Frank believes in the value of art and culture and is honoured to work in roles that strive towards ensuring the vibrancy of the cultural inheritance for future generations of Indigenous artists.

Bronwyn is a Wiradjuri woman with over 40 years experience working and raising her family in the Redfern community. Bronwyn is a registered dispute resolution practitioner and is a director of a consultation business.

Bronwyn is the Chairperson of Mudgin-gal Aboriginal Women's Centre and has been an advocate for Aboriginal women's issues for over 20 years working to address family violence in Sydney and abroad.

Bronwyn believes in the importance of raising the voices of Aboriginal and Torres Strait Islander people, and supporting local people through business opportunities, employment and women's safety.

Matthew is a member of the Muruwari and Eora nations. He is a renowned cultural practitioner with over 30 years experience as a performer, composer, teacher and cultural consultant.

Born and raised in Sydney, Matthew is interested in bringing fresh ideas to the panel having seen the city so much over the years. Matthew has experience in an advisory capacity with NAISDA College and Australia Council for the Arts. Matthew believes we can best serve the community by being inclusive and open in its consultation for our projects and strategies. He's interested in our support for education, arts, culture and health of the community.

Delilah MacGillivray, is a proud Kalkadoon and South Sea Islander woman from Rockhampton, situated on Darumbal Country, Central Queensland.

Delilah's professional career spans more than 35 years in the public, community and business sectors, across a diverse range of portfolios. She has acted as a change agent, influencing the design of legislation, policy and programs to improve the everyday lived experiences of Aboriginal and Torres Strait Islander people in urban, rural and remote communities.

In her current role at the National Centre of Indigenous Excellence based in Redfern Sydney, Delilah is the Manager IDX. In this role she leads the Indigenous Digital Excellence (IDX) initiative in partnership with the Telstra Foundation.

Steven is a Yankunytjatjara and Pitjantjatjara from Central Australia. Steven is a driven Indigenous entrepreneur and founder of Iwara Travel Australia. Steven brings over 10 years experience in marketing, event and project management across various sectors including education, not-for-profit, tourism, employment and small business.

He has an accomplished track record in working with Indigenous artists and groups to achieve results that positively impact First Australians' social and economic welfare. Steven believes that by celebrating and embracing Indigenous cultures we bring all Australians together.

Jinny is a Wiradjuri and Walbunja (Yuin nation) woman. Jinny has experience living and working in the local community and currently works as the Aboriginal Tenant Liaison Officer in Waterloo.

Jinny sits on the boards of Gadigal Information Service and Mudgin-gal Aboriginal Women's resource corporation. Jinny brings her advocacy for youth, strong women and leadership to the panel.

Jinny is interested in our strategic planning and developing pathways for sustainable employment opportunities.

Dallas is a proud descendant of the Jerrinja Clan of the Wandi-wandian People, on the south coast of New South Wales. He also has cultural ties and affiliations with the Walbunja, Djiriganj, Wodi Wodi, Dharawal, & Dhungutti Peoples. Raised on his mother's Country at Jerrinja, living along the south coast, as well as Kempsey NSW.

Dallas has lived and worked with Aboriginal people for more than 20 years on the lands of the Eora, Dharawal, Darug, Gundungurra and Worimi Nations within the Sydney metropolitan area, respecting Traditional Owners/Guardians and those with historical and contemporary connections.

Dallas' experience has been in Aboriginal affairs for most of his life, dedicated to land rights, culture and heritage, families and communities, and education. Dallas is passionate about the recognition of Aboriginal and Torres Strait Islander people and communities in the city and contributing Aboriginal values to us and the panel in a culturally respectful, competent and inclusive way.

Ashlee Donohue is a proud Dunghutti woman, born and raised in Kempsey, New South Wales. She's an educator, advocate and speaker in the field of domestic violence and sexual assault.

Ashlee holds a Bachelor of Arts in Adult Education and Community Management and a Master of Education in Indigenous Studies. She was awarded the University of Technology Sydney Human Rights Reconciliation Award.

Ashlee has presented at the United Nations Status of Women Forum in New York, and has been the lead writer and co-creator for numerous anti-violence campaigns. Ashlee sits on the Our Watch Aboriginal Women's Advisory Committee and is Chairperson of Wirringa Baiya Aboriginal Women's Legal Centre.

Ashlee is a published author with her memoir titled Because I love him a personal account of love, motherhood, domestic violence and survival.

Suzy is a Gomeroi woman from Moree who was born in Sydney and now lives in Waterloo. Suzy is interested in our work in social sustainability and urban renewal. She would like to contribute to a city that celebrates diversity and addresses growing inequality.

Suzy is a practising artist and operates her small business Modern Murri. Suzy has qualifications in community development and is currently studying Arts at University of Sydney. Suzy believes we can best support the community by listening and engaging in an accessible way.

Beau is from the Mununjali clan of the Yugambeh Nation from southeast Queensland. Beau has over 25 years experience working in community engagement, social justice and education sectors and currently holds the position of Manager of Indigenous Programs at the Australian Maritime Museum. Beau has implemented policies to ensure there's ethical access to, and protection of, cultural knowledge and objects in the museum.

Beau's professional and community experience includes working with Koori Gras, The Arts Law Centre of Australia and many local schools and local Indigenous organisations.

Beau believes that the best way for us to serve Aboriginal and Torres Strait Islander peoples is for meaningful representation and a voice at the forefront of all of our work including through supplier diversity, capacity building and developing the cultural competence of the organisation.

Daniel is a Wiradjuri and Kamilaroi man and sees the panel as an opportunity to work alongside other Aboriginal and Torres Strait Islander people to give back to community. Daniel has experience liaising with community on a personal and professional level.

Daniel has grown up in the Redfern and Waterloo areas since a young age. In the past, Daniel has worked at the Redfern Aboriginal Medical Service and currently works in Aboriginal health for Sydney Local Health District and Royal Prince Alfred Hospital.