Aboriginal and Torres Strait Islander Advisory Panel
Provides advice on matters of importance to our communities.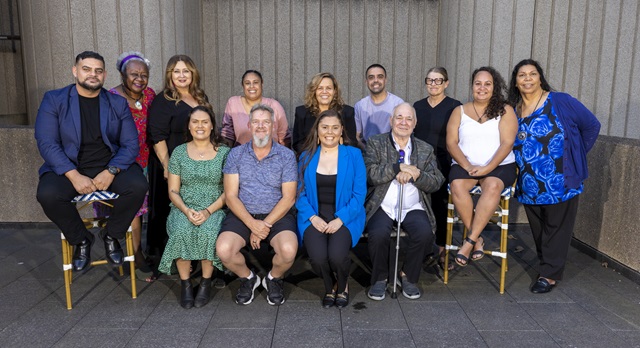 Information and advice
Council appointed the first Aboriginal and Torres Strait Islander Advisory Panel on 15 December 2008. Made of community and industry professionals, the panel's members are Aboriginal and Torres Strait Islander peoples who live, work or study in the local area.
Each member brings a wealth of knowledge and skills to provide advice on matters of importance to Aboriginal and Torres Strait Islander communities. They provide advice to inform the policies of the City of Sydney and make a positive contribution to our relationship with Aboriginal and Torres Strait Islander individuals, organisations and leaders.
The Aboriginal and Torres Strait Islander Advisory Panel meet at least 6 times a year.
Find out more about the current panel members below.
Dan is a Wiradjuri and Gomeroi man and sees the panel as an opportunity to work alongside other Aboriginal and Torres Strait Islander peoples to give back to community. Dan has experience liaising with community on a personal and professional level.

Dan has grown up in the Redfern and Waterloo areas since he was young. In the past, Dan has worked at the Redfern Aboriginal Medical Service and in Aboriginal health for Sydney Local Health District and Royal Prince Alfred Hospital. He currently works at ReachOut.

Beau is from the Mununjali clan of the Yugambeh Nation from southeast Queensland and has over 30 years' experience working in the arts and culture sector. They currently hold the position of Associate Director - First Nations at the Museum of Applied Arts & Sciences.

Beau's professional and community experience includes working with Sydney Opera House, Australian National Maritime Museum, Arts Law Centre of Australia, LBGTIQA+ communities, youth at risk and women in prison programs and projects.

Beau believes the best way for us to serve Aboriginal and Torres Strait Islander peoples is for meaningful representation and voice to be at the forefront of all that we do.

Ryan Donohue-Pitt is a proud Dunghutti and Torres Strait Islander man who grew up on the mid north coast in Kempsey. Ryan has lived in Sydney for the past 11 years. He's currently a project and community engagement officer at the NSW Department of Planning and Environment, which supports Aboriginal land claims for Indigenous communities across NSW within Crown Land.

La Toya Pinner is a Gamilaroi yinaar from Moree in north-west NSW. She was raised on Country and now lives and works on Bidjigal and Gadigal land in Sydney.

La Toya has over 10 years' experience working in Aboriginal and Torres Strait Islander affairs within public and private sector organisations. La Toya is able to draw from her experiences working with Aboriginal and Torres Strait Islander communities and organisations to work collaboratively to develop and implement strategies and initiatives that have First Nations people in mind.

Ashlee Donohue a proud Aboriginal woman from the Dunghutti nation, born and raised in Kempsey, NSW. An author, educator and advocate for topics such as anti-violence, anti- racism and Aboriginal women, Ashlee has created a platform to share lived experiences, as well as a safe place for many Aboriginal women.

A highly sought-after facilitator, speaker, consultant and powerful advocate, Ashlee has presented at the UN Status of Women Forums in New York, been the lead writer and co-creator for numerous anti-violence campaigns and anti-racism education materials, adaptations and reviews of a variety of work. Ashlee is also a published author. Her memoir, Because I love him, is a personal account of love, motherhood, domestic violence and survival.

Ashlee is currently the CEO of Mudgin-Gal Aboriginal Women's Centre and Domestic Violence NSW Aboriginal and Torres Strait Islander Advisory Committee.

Jinny-Jane is a proud Wiradjuri/ Walbunja woman of the Yuin nation. Jinny identifies as a lesbian woman, mother and aunty to many. Jinny is dedicated to giving her time to enhance communities address social justice and self-determination for the betterment of her community.

Jinny has been an active advocate for the plight of not only Aboriginal rights but the rights of her queer blak community for over 10 years.

Jinny is a board member of Mudgin-Gal Aboriginal Womens Corporation. She also works as the program manager for First Nations projects at ACON.

Jinny is passionate about making change regarding the stigmas and stereotypes of the LGBTIQA+ communities.

Medika Thorpe is a proud Gunai, Gunditjmara and Gooreng Gooreng woman from Victoria with connections to Bundaberg, Queensland but was raised on Gadigal and Darug country in Sydney.

Medika is currently a new board director at Welcome to Country, a not for profit marketplace for Aboriginal and Torres Strait Islander experiences and products. She has extensive experience within media, community health and the creative arts which has helped her build rapport to advocate and empower the communities she serves and supports.

She has worked with First Nation owned organisations and businesses such as NITV, Vibe Australia, 33 Creative and her help in establishing Australia's first Indigenous film festival, Winda, in 2016 based in Sydney after her time living in Toronto, Canada working in the film industry.

Medika's aspires to help amplify First Nation voices on the ground and forge relationships between Community and the City.

Robert is an Aboriginal man from the Bundjalung nation in northern NSW. His family comes from Baryulgil and he has one brother and five sisters.

Robert has spent many years working in the various government departments involved in Aboriginal affairs including Aboriginal Development Commission (ADC) in Canberra, NSW Aboriginal Land Council, National Aboriginal and Islander Skills Development Association (NAISDA).

Robert is on the board of Ngullingah Jugun (our country) the registered native title corporation for western Bundjalung and a member of Babana men's group in Sydney. Babana's function is to give support to Indigenous men in the Sydney area by supporting programs and giving men a safe place to discuss various issues.

Bronwyn is a Wiradjuri woman with over 40 years experience working and raising her family in the Redfern community. Bronwyn is a registered dispute resolution practitioner and is a director of a consultation business.

Bronwyn is the chairperson of Mudgin-gal Aboriginal Women's Centre and has been an advocate for Aboriginal women's issues for over 20 years working to address family violence in Sydney and abroad.

Bronwyn believes in the importance of raising the voices of Aboriginal and Torres Strait Islander peoples, and supporting local people through business opportunities, employment and women's safety.

Matthew is a member of the Muruwari and Eora nations. He is a renowned cultural practitioner with over 30 years experience as a performer, composer, teacher and cultural consultant.

Born and raised in Sydney, Matthew is interested in bringing fresh ideas to the panel having seen the city so much over the years. Matthew has experience in an advisory capacity with NAISDA College and Australia Council for the Arts. Matthew believes we can best serve the community by being inclusive and open in its consultation for our projects and strategies. He's interested in our support for education, arts, culture and health of the community.

Dallas is a proud descendant of the Jerrinja Clan of the Wandi-wandian People, on the south coast of NSW. He also has cultural ties and affiliations with the Walbunja, Djiriganj, Wodi Wodi, Dharawal and Dhungutti peoples. Raised on his mother's Country at Jerrinja, living along the south coast, as well as Kempsey NSW.

Dallas has lived and worked with Aboriginal peoples for more than 20 years on the lands of the Eora, Dharawal, Darug, Gundungurra and Worimi nations within the Sydney metropolitan area, respecting Traditional Owners/Guardians and those with historical and contemporary connections.

Dallas' experience has been in Aboriginal affairs for most of his life, dedicated to land rights, culture and heritage, families and communities, and education. Dallas is passionate about the recognition of Aboriginal and Torres Strait Islander peoples and communities in the city and contributing Aboriginal values to us and the panel in a culturally respectful, competent and inclusive way.

Suzy is a Gomeroi woman from Moree who was born in Sydney and now lives in Waterloo. Suzy is interested in our work in social sustainability and urban renewal. She would like to contribute to a city that celebrates diversity and addresses growing inequality.

Suzy is a practising artist and operates her small business Modern Murri. Suzy has qualifications in community development and is currently studying Arts at University of Sydney. Suzy believes we can best support the community by listening and engaging in an accessible way.

Dr Todd Phillips is a proud Bundjalung and Gumbaynggirr man from the north coast of NSW and is an experienced manager, researcher, and educator. Todd is the national Indigenous engagement manager for Kellogg Brown & Root, an American based company operating in fields of science, technology and engineering. It operates in various markets including aerospace, defence, industrial and intelligence and is the Indigenous and reconciliation partnerships advisor at Lion Australia.

Todd has led 16 Reconciliation action plans for corporate organisations and educational institutions that have effectively guided transformational change in their respective industries with a focus on increased Indigenous employment and procurement outcomes. He has won many awards including the Queensland Premiers Reconciliation Award from the Queensland Government, the Executive Dean's Outstanding Contribution to Education Award from Queensland University of Technology, and the President Bill Clinton Recognition Award of High Educational Achievement Award issued by Clinton Global Initiatives University at Tulane University, New Orleans.

Choreographer, dancer and artistic director, Kerry Johnson stems from and creates out of Griffith, and has worked with some of Australia's leading musical acts, productions and festivals.

Kerry is the founder and artistic director of Burrundi Theatre for Performing Arts, a First Nations not-for-profit organisation. She also worked on many festival events and with Gavin Jones as a resident choreographer for the Deadly Awards for five years.

Kerry is the resident cultural curator of Yabun Festival, the largest one day gathering and recognition of Aboriginal and Torres Strait Islander cultures in Australia. She is the artistic director of the Yarruwala Wiradjuri Cultural Festival, established in the Western Riverina in 2020. Her most recent achievement has been as the founder, producer and Artistic Director of the Warangesda Festival in regional NSW.

Kerry has dedicated her career to working with and guiding children. Working with trauma specialists, Kerry has developed a unique style of workshopping performances that embed wellbeing therapy throughout the process. This unique method is achieving positive outcomes that connect with community and move First Nations stories into the foreground.

Kooncha Brown is from the small Koori village of Wallaga Lake. She is a 60+ year old transgendered woman. She helped her mum raise her 2 younger sisters and youngest brothers, and she helped them raise their children who call her mum. Their children call her nan.

Kooncha transitioned when she was around 24 years old and has lived as a woman ever since. She found employment in various organisations including training and working as an assistant in nursing. She worked at ACON for 10 years in her role as transgender/sistergirl project officer and her main role was to educate the Aboriginal and Torres Strait Islander LGBTIQA+ communities and the broader Aboriginal and Torres Strait Islander communities on issues relating to HIV/AIDS and sexual health. After resigning from ACON, Kooncha worked in an Aboriginal women's refuge. During this period, she was also a fulltime carer for 10 years for her elderly wheelchair-dependent mum.

Kooncha is currently studying fashion design at TAFE Ultimo and hopes to one day create one-off garments incorporating Aboriginal designs. Her passion for fashion is what drives her to help support women, especially Aboriginal and Torres Strait Islander women to look their best.

Christine is a Bundjalung woman who was born on the land of the Gadigal people of the Eora Nation and has lived in the area for most of her life. Christine over 30 years' experience working in the areas domestic, family and sexual violence. She has worked in women's domestic violence refuges and Wirringa Baiya which is a state-wide community legal centre which pays particular attention to the needs of Aboriginal and Torres Strait Islander women, children and youth who have or are experiencing violence.

Christine holds a Bachelor of Arts in Adult Education and Community Management. She has been the recipient of the UTS Humans Rights Award and the South Sydney Council Community Award for her commitment to community.

Christine is committed to ensuring that community safety will continue to remain a priority of the Panel. Christine sits on numerous committees including NSW Aboriginal Advisory Network AWAN, NSW Domestic Violence Death Review Team DVDRT, NSW First Nations Communities – Coercive Control Reference Group, NSW Domestic and Family Violence and Sexual Assault Council NSW DFVSA.