The city at a glance
Statistical data about our area and how we compare in a national and global context.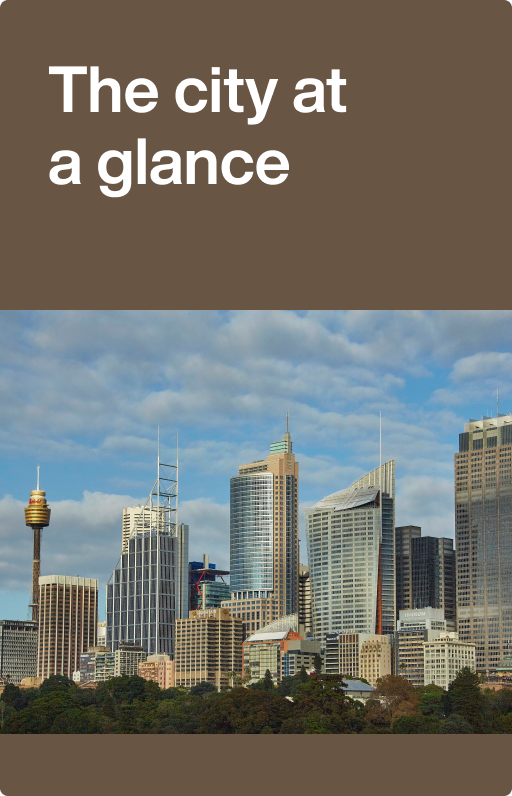 The City of Sydney local area is one of the largest and fastest growing local areas in Australia.

Population

As at June 2020, the estimated resident population in our local area was 248,736 people. This represents around 4.6% of Greater Sydney's total population.

The population density within the city is 9,301 per sq km at June 2020.

Between 2010 and 2020, our local area population increased by 27.3%, or 68,988 people.

In contrast, Greater Sydney grew by 15.1% while NSW grew by 12.5% over the same period. By 2031, the local population is projected to increase to more than 320,000.

Visitors

On any given day, more than 629,000 visitors and students come to the city to shop, be entertained or inspired, to learn, to visit friends and/or to conduct personal or corporate business.

During 2018/19 financial year, 6.7 million international and domestic overnight visitors stayed in commercial accommodation in the local area. Over a 10-year period to 2018/19, the number of visitors staying in commercial accommodation increased by 53.7%.

Visitor growth in recent times has largely been from Asia, particularly China, India and Korea.

Harbour and parklands

Waterways and some public areas are under the executive control of various state government agencies including: Property NSW, Transport for NSW, Sydney Ports, Centennial Park and Moore Park Trust, Royal Botanic Gardens & Domain Trust, Department of Defence and UrbanGrowth NSW Development Corporation.

Suburbs

The city is made up of 33 suburbs wholly or partly contained within our council boundary:

Our local area is made up of many diverse communities – people who live here come from a wide variety of cultural and social backgrounds.

Language

54.9% of local residents were born overseas, of which 36% came from a country where English is not the first language.

41.3% of local residents speak a language other than English at home. The dominant non-English languages spoken at home are Mandarin, spoken by 11.3% of residents followed by Thai with 3.6% and Cantonese with 3.3%.

Our local area is also home to one of Sydney's largest communities of Aboriginal and Torres Strait Islander peoples.

Age

Almost half of our residents were aged between 18 and 34 years and our largest group is the 25 to 29 year-olds, making up almost 18% of our resident population. The median age of local residents is 32 years in contrast to 36 years for Greater Sydney.

The biggest population growth occurred in the 20–34 year-old group which has grown almost 21,000 in the past 5 years. This represents over half of the city's growth and that group makes up over half the population.

Conversely, there are proportionally fewer teenagers, children and older people residing within our local area compared to Greater Sydney.

Living arrangements

37.3% of local households in 2016 were occupied by lone persons, considerably higher than the Greater Sydney figure of 21.6%.

Couples without children and group households represent 29.7% and 15.5% of all local households, respectively.

The local area also has a much smaller proportion of couples with children households (10.9%) compared to Greater Sydney (37.4%).

In 2016, around 75,000 people of the 125,000 working residents who live in our local area also work here. Another 427,000 workers who live outside the local area commute to the city each day.

Workers

On an average weekday in 2017, 502,000 people worked in our local area – 23% in the finance and financial services sector and nearly 20% in professional and business services.

Nearly 49% of the local workforce in 2016 were born overseas with 44% of overseas-born workers from Asia, 13% from the UK and 6% from New Zealand.

Income

On average, the median weekly income for local households in 2016 was $1,915 compared to $1,745 for Greater Sydney.

31.8% of residents aged 15 and over earn a weekly income greater than $1,500 per week compared to 21.4% for Greater Sydney.

20.2% of residents aged 15 and over receive an income of less than $300 per week compared to 23.5% for Greater Sydney.

Being the economic and cultural heart of the Greater Sydney area, the city is highly and densely urbanised.

Built form

Our local area has nearly 38 million sqm of internal floor space.

In 2017, around 45% of internal floor space was devoted to businesses in key industries including the finance sector, professional and business services and tourism. Just over a third (34.4%) was dedicated to residential uses.

Transport

Compared to more than 88.5% for Greater Sydney, 58.7% of local households own a car.

The average number of cars per household at 0.76 is around half the rate for households Sydney-wide (1.58).

In 2016, public transport use accounted for 35% when commuting to work while just over a quarter (26.3%) drive to work and nearly a third (32.5%) of residents used active transport to work such as riding a bike or walking.

Based on industry mix and relative occupational wage levels it is estimated that economic activity (GDP) generated in the city during 2018/19 was around $138 billion. This represents over 7% of the total national economy, over 30% of the Greater Sydney economy and almost a quarter of the entire GDP for NSW.

There are over 23,500 separate business establishments in our local area. A large number of the top 500 companies in Australia are located in the city from the 41% that are located in NSW alone.

Overall the local working population is just under 4% of the total workforce in Australia.

The city is the workplace for 21% of the entire finance sector, 15% of the total information, media and technology industry and 11% of creative and performing arts activity across Australia. The proportion is even greater in more specific industries such as internet publishing and broadcasting (56%).

International visitor gateway

Sydney is Australia's face to the world boasting 7 of the country's top 10 most popular visitor attractions. The city has consistently been named a favourite international tourist destination over the past 15 years in reader surveys for travel publications.

Over a 12-month period to December 2019, the Sydney metropolitan area hosted over 4.1 million international visitors who spent a total of more than 82 million individual visitor nights in the region – over 18% came from China.

Sydney hosted nearly half of all international visitors to Australia during the same period, who spent on average over $2,500 each, representing $10.4 billion – nearly one-quarter of Australia's international tourism earnings.

Global city rankings

A number of organisations around the world have developed their own rankings that measure cities across a diverse range of social, economic, environmental and cultural indicators. Arguably, some rankings attempt to quantify cities in terms of their global status and influence, which provides us with an alternative understanding of how Sydney is positioned against other cities around the world.

Sydney is considered an alpha world city, according to Loughborough University's globalisation and world cities research network, which measures the connectivity of cities in terms of position and influence. According to its model, Sydney is ranked in the top 10 most connected cities alongside New York, London, Tokyo, Paris and Hong Kong. Alpha cities in general have critical links with major economic regions and states that are linked to the world economy.

The 2020 Anholt-Ipsos City Brand Index ranked Sydney as the 2nd best city in the world for its brand appeal and image. Sydney was voted the best city for people and second best for placer. 5,000 people were asked to rank fifty cities evaluating their international status and standing, physical aspects, basic requirements such as affordable housing and public amenities standards, interesting things to do and economic and educational opportunities.

The Global Financial Centres Index measures competitiveness across 108international finance centres and their performance in business environment, finance sector development, infrastructure, human capital and reputation. In 2020, Sydney was in the top twenty list of leading centres globally and was ranked 8th overall in the Asia-Pacific region.

The Global Power City Index ranked Sydney 10th in 2019 among 48 of the world's major cities, behind familiar leaders London, New York, Tokyo and Paris. In the same index, Sydney's economy was ranked 9th based on market size and, attractiveness and human capital and 5th on environment (ecology and air quality) while Sydney ranked 16th in research and development. The yearly ranking is compiled by the Japan-based Mori Memorial Foundation.

Sydney was ranked number 1 in Australia by the University of Canberra Knowledge City Index 2017, 15th by 2thinknow's 2019 Top World Cities for Innovation and 27thh in the2020 Startup Genome Ecosystem Report.

Quality of life indicators are increasingly being recognised for a city's importance beyond economic factors. Led by its 8th place for city Infrastructure, Sydney was ranked in the top 10 world cities in the 2017 Mercer Quality of Life Index covering 231 cities. It has held the top 10 place each year since 2010. The quality of life survey is conducted to help governments and major companies place employees on international assignment.

Banking on it

Sydney is Australia's main financial centre being home to the Australian Stock Exchange and the Futures Exchange. According to the 2016 census there were over 145,000 workers employed in the financial and insurance services sector in Greater Sydney with more than 60 % located in the city.

More than three quarters of all foreign and domestic banks in Australia have their headquarters located in Sydney. In 2018/19 Greater Sydney had a GDP of over $460 billion per year, which is around quarter of Australia's GDP and around three quarters of the NSW GDP.

A large number of information and communications technology companies have recently been attracted to Sydney and as a result the city dominates internet media design and production employment in Australia.

Geographically, Sydney is fringed by the Tasman Sea to the east, the Blue Mountains to the west, the Hawkesbury River to the north and the Woronora Plateau to the south. The Parramatta, Georges and Cooks rivers are some of the major tributaries that flow to the coastline of Sydney.

Greater Sydney, as classified by the Australian Bureau of Statistics, extends from Wyong and Gosford in the north to the Royal National Park in the south and follows the coastline in between. Towards the west, the region includes the Blue Mountains, Wollondilly and Hawkesbury. Greater Sydney covers 12,368.2sq km and is made up of 35 local councils.

These councils contain more than 900 state suburbs. They are largely linked by a complex transport network including heavy and light rail services, public and private bus services, ferry services, taxis and a road and cycle network.

Economic context

In 2018/19 Greater Sydney generated an estimated economic output of over $460 billion which represented 24.5% of Australia's GDP.

Greater Sydney population

In 2020 the estimated Resident Population for Greater Sydney was 5,367,139. Based on a total site area of 12,368.2sq km, the current population density of the Greater Sydney area is 442.3 persons per square kilometre which includes a number of surrounding national parks. The built urban area is estimated at 4,196sq km which translates to a density of 1,279 persons per square kilometre.

According to the 2016 census, the Usual Resident Population of Greater Sydney was 4,823,991. This comprised of 49.3% males and 50.7% females, with 1.5% of the population being Aboriginal and Torres Strait Islander peoples. The total population increased by 9.8% in the 5 years since 2011 and 17.1% in the 10 years since 2006.

The median age of the population is 36 years. In the 2016 census, 18.6% of the population were children aged between 0 to 14 years, and 24.7% were persons aged 55 years and over.

Sydney's multicultural make-up is evident in the statistics relating to the country of birth for residents living in Greater Sydney. Of the total population, 39.2% were born overseas. The top 5 countries for residents born overseas were China (5%), United Kingdom (4%), India (2.9%), New Zealand (1.9%) and Vietnam (1.8%).

Within the same area, 62% of the population speaks only English at home. The most common languages other than English spoken at home were Mandarin (5%), Arabic (4.3%), Cantonese (3.1%), Vietnamese (2.2%) and Greek (1.7%).

The weekly income of residents in Greater Sydney is slightly higher than the weekly income for all Australian residents. In Greater Sydney, the median weekly individual income for persons aged 15 years and over was $719, compared with $662 across the nation. The median weekly household income in Greater Sydney was $1,750 compared with $1,438 nationally. And the median weekly family income was $1,988 in Greater Sydney compared with $1,734 across Australia.

During the 2016 census there were 1,623,872 occupied private dwellings counted in Greater Sydney. Of these 57.1% were separate houses, 14.1% were semi-detached, row or terrace or townhouses, 28% were flats, units or apartments and 0.6% were other dwellings.

Of those occupied private dwellings 73.6% were family households, 21.6% were lone person households and 4.7% were group households.

Greater Sydney workforce

Sydney is the financial and business services hub of Australia. It also has a concentration of jobs within the multimedia and communications industries, tourism, hospitality and cultural industries.

At the 2016 census the total labour force for Greater Sydney was 2.209 million. The labour force represents nearly 20.7% of the total national workforce. A total of 66.9% were employed on a full-time basis, 30.2% were employed on a part-time basis, and 2.9% were employed but away from work at the time of the census.

The most common occupation for persons within Greater Sydney in 2016 were professionals at 27.2%. Clerical and administrative workers made up 15.1% of all employed persons, while managers accounted for 14.1%, followed by technicians and trades workers at 10.8%.

The most common sector of employment for Greater Sydney residents in 2016 was Health Care and Social Assistance (11.8%), followed by Professional, Scientific and Technical Services (10.2%), Retail (9.7%) and Education and Training (8.3%).

2016 Australian Bureau of Statistics Census of Population and Housing
2017 City of Sydney Floor Space and Employment Survey
Regional Population Growth, Australia (ABS Cat no. 3218.0)
Disclaimer
While care is taken to ensure accuracy, the City of Sydney can't guarantee that information expressed here is correct and recommends that users exercise their own skill and care with respect to its use. We make no warranty or undertaking, whether expressed or implied, nor does we assume any legal liability, whether direct or indirect.