Guidelines for speakers at council committees
As part of our democratic process, you can talk about your concerns in person.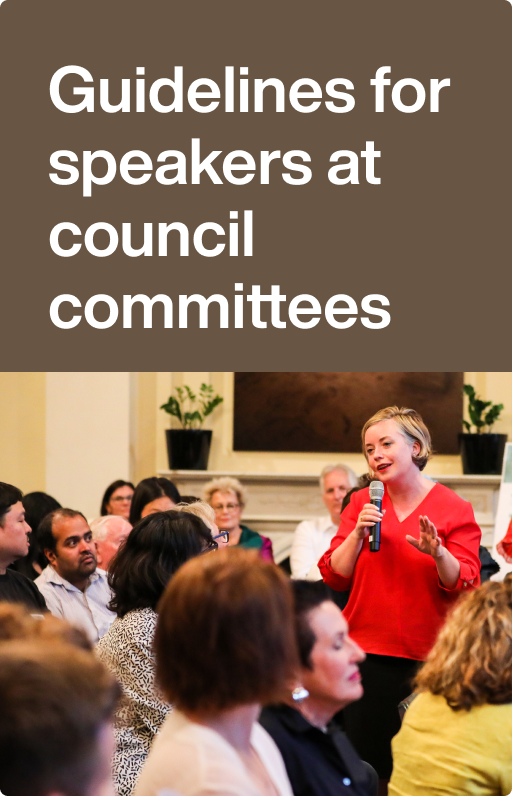 Secretariat
Council Committees
Local Planning Panel
Central Sydney Planning Committee
Speaking at committee meetings
To hear a wide range of views and concerns within the limited time available, we encourage people speaking at committees to:
register before 10am on the day of the meeting. Early registration is encouraged. Contact Secretariat by email or phone to register.
check the recommendation in the committee report before participating as it may address your concerns already.
note the 3 minute time limit for each speaker, with a warning bell at 2 minutes. Prepare your speech to cover your major points within that time.
avoid repeating what previous speakers have said and focus on issues and information the committee may not already know.
nominate 3 speakers if a large number of people are represented
quickly return to the microphone and respond briefly to any questions from councillors after all speakers on an item have made their presentations.
Committee meetings can run for several hours, particularly when there is a long agenda and a large number of speakers. This has an impact on speakers who have to wait, as well as employees and councillors who are required to remain focused and alert. As a result, agenda items may be reordered so items with speakers can be dealt with first.
Live streaming
Council and committee meetings, including your speech, are recorded and broadcast live on our website.
If you're addressing a committee meeting, your image, voice and personal information, including name and address, will be recorded, publicly broadcast and archived for up to 12 months.
By attending or speaking at a committee, you consent to this use of your image, voice and personal information.
Watch a livestream of council or committee meetings.
Remote meetings
You can attend council and committee meetings by watching online.
Council and committee meetings are held in person in Lower Town Hall.
Local Planning Panel meetings will be held on Zoom. Panel members and relevant employees attend the meeting remotely.
You can also provide written comments about relevant committee items to be provided to committee members. This material must be lodged to Secretariat before 10am on the day of the meeting.