Sydney New Year's Eve 2021
News and updates about Sydney New Year's Eve 2021.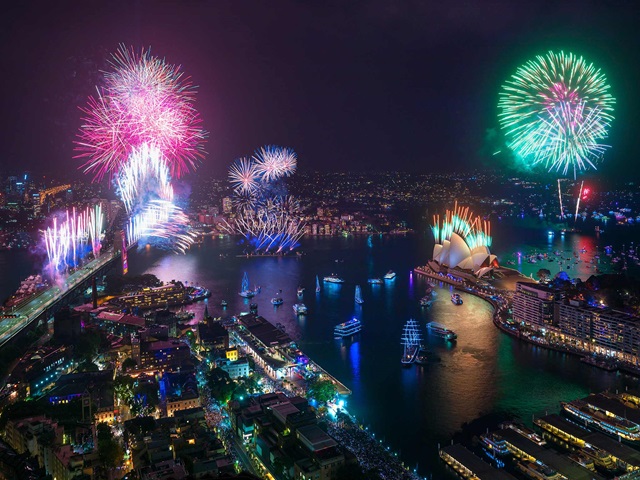 News and updates
Subscribe for news and updates about Sydney New Year's Eve 2021.
The City of Sydney will manage the 9pm and midnight fireworks displays, including barges, pylons and lighting projections.
Following the strong uptake of Covid-19 vaccinations by the community, the planned relaxation of public health orders and the release of the State Government's roadmap for reopening Greater Sydney, Lord Mayor Clover Moore recently met with Minister Ayres to plan for the delivery of the Sydney New Year's Eve event, including both the 9pm and midnight fireworks, in co-ordination with the NSW Government.
We have continued to prioritise the health and safety of the community and staff during the pandemic by adhering strictly to the Public Health Orders, while also championing community recovery through delivery of Covid-safe events, such as the Sunset Piazza live performances and the Al Fresco City program.
The delivery of this New Year's Eve plan is subject to the City of Sydney achieving agreement with NSW Government that should public health orders or the Covid safe plan for New Year's Eve not be able to be met by the City under work health and safety obligations, then the NSW Government will take responsibility and management of the Sydney New Year's Eve event for 2021.
This proposal was presented and endorsed at an extraordinary Council meeting on Tuesday 5 October.

This development follows months of uncertainty around the spread of the highly contagious Covid-19 Delta variant in the community.

Sydney New Year's Eve is a significant, complex hallmark event requiring co-ordination with multiple stakeholders and suppliers many months in advance.

We will continue to monitor the evolving health situation, while working with the NSW Government and relevant agencies, including the NSW Police Force, Transport for NSW, the Port Authority for NSW, NSW Ambulance, and NSW Health for a safe 2021 New Year's Eve celebration.

More information about the event will be available from 1 November 2021.
Last updated 5 October 2021