Building a new library at Green Square
A beautiful underground design set within a public plaza has opened in the town centre.
Project Status:

Completed

The library is open for everyone to enjoy.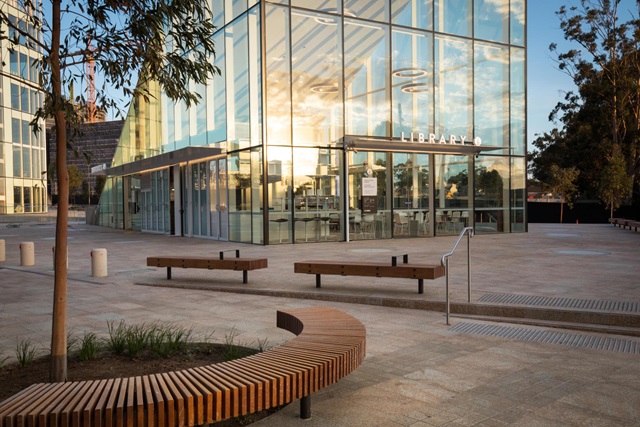 Green Square community relations
What we're doing
A beautiful underground library set within a new public plaza is where you can connect, learn, relax and play.
Architects Stewart Hollenstein with Stewart Architecture won a global design competition and created the stunning and functional design.
Built using complex engineering techniques on land that was once a swamp, Green Square Library is a 2,300sqm open space with 40 skylights across the roof to provide natural light.
At its centre is a subterranean garden that offers a quiet space to read in the fresh air. There is also an amphitheatre and a café.
A striking 6-storey glass tower emerges above the plaza. It houses a technology lab, a music room with a piano for practice and rehearsals, community and meeting rooms, and a dedicated children's area.
Green Square Library has a collection of more than 40,000 books, CDs, DVDs, magazines and newspapers, and a Chinese collection. Like all of our libraries, it offers a wide range of services. We run events, workshops and programmed activities for all ages.
One of our customer service centres is located within the library.
The plaza has trees for shade, moveable chairs, a lawn for reading and pop up events and a water play zone.
The library and plaza have a 5-star rating from the Green Building Council of Australia. Some of the features that helped us achieve this rating are a central wastewater system and a low energy displacement ventilation system within the library's bookshelves.
The superior design of the new facilities has been recognised. Green Square Library and plaza won the prestigious Sir Zelman Cowen Award for Public Architecture and an award in the urban design category at the 2019 Australian Institute of Architects national awards. It was a big winner at the 2019 NSW Architecture Awards, taking home the John Verge Award for interior architecture, the NSW Premier's Prize and awards in the public and urban design categories. It has also won a global award.