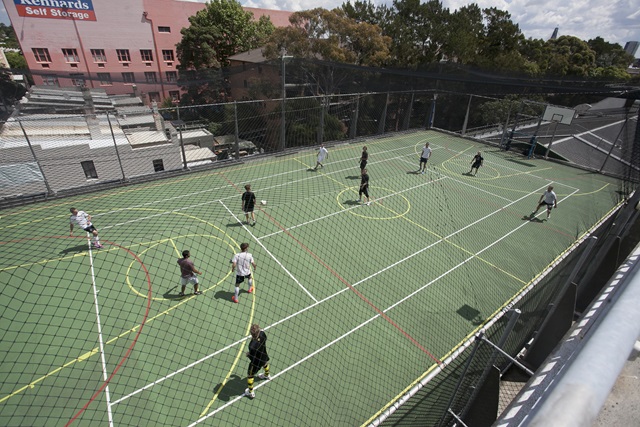 Rooms, halls, sports courts and an open space courtyard for hire. The centre also hosts 2 independent child care centres.
Bookings
Court bookings, casual play basketball, table tennis, venue hire and support appointments with our community services worker are available. Contact the centre to make a booking.
Registrations are now open for our sports competitions.
The rooftop courts are currently closed while we undertake essential repairs.
Opening hours
Monday to Friday

10am to 8pm

Saturday and Sunday

10am to 4pm

Public holidays

Closed
Subscribe to Ultimo Community Centre updates
We'll keep you updated about opening hours, events and other centre news
Close to transport

included

Table tennis

included

Bookings required for competition tables only and not community tables.

Buy table tennis:

bats for $20 each
balls for $3 each.

Cashless

included

Recycling station

included

Drop off batteries, mobile phones and light bulbs on the ground floor, near the stairs.

Change facilities

included

Wifi

included

Children's area

included

Playground equipment, after - school and vacation care available.

Bike racks

included
Onsite mobility parking

included

2 accessible parking spots on the basement level, accessed from Harris Street.

Mobility parking within 300m

included

There is a mobility parking space located at 72 MacArthur Street, Ultimo around 200m from venue.

Level access entrance

included

The path to the entrance is level, with uneven bitumen. There are no steps at the entrance and no handrail.

Entry door type

included

Manual – doors open to 1700mm wide. Doors remain open during opening hours.

Floors

included

Lift

included

There is lift access to 3 of 4 floors. 1 rooftop court inaccessible by lift.

Accessible toilets

included

3 unisex accessible toilets on the ground floor near reception, in Little Bridge Hall and on level 1.

Ambulant toilets

not included

Changing places facilities

included

The ground floor unisex accessible toilet includes a shower. Entrance is 1090mm wide. The shower is level with the ground, offers handrails and a height adjustable shower head.

Hearing support system

included

There is a hearing loop in Little Bridge Hall only.
Ultimo OSHC team leader
Ultimo Community Centre

40 William Henry Street

Ultimo 2007
After-school & vacation care
Please contact the Ultimo team leader for more information about fees and availability for your child.
After-school care Monday to Friday
3pm to 6pm
Vacation care Monday to Friday
8am to 6pm
Child care
Please contact one of our on-site independent child care centres for more information about fees and availability for your child.
Opening hours
Monday to Friday
6am to 6pm
Kindy Patch
Level 1 Ultimo Community Centre

40 William Henry Street

Ultimo 2007
Believe Playschool
Level 2 Ultimo Community Centre

40 William Henry Street

Ultimo 2007