City Art Laneways
An opportunity to deliver temporary public art projects in the heart of the city.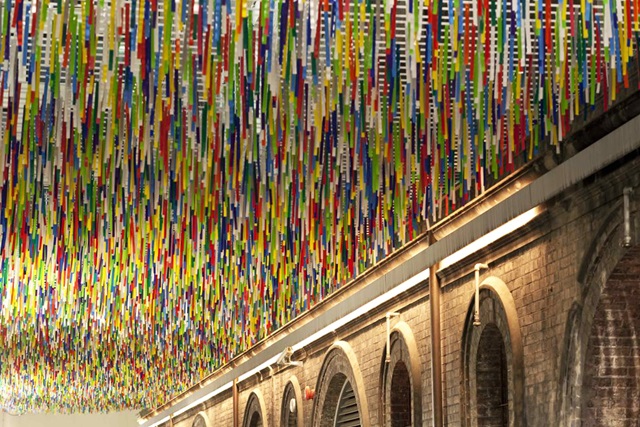 Linda Fiskus
Procurement Specialist - Queries regarding the online form
City Art
For all queries relating to the Artist's brief
Applications have closed
Thank you for your interest.
Get notified of other opportunities for artists.
2020 program timeline
10am Monday 16 November – Applications close
Mid-November – Projects awarded
November to December – Project development
11 January 2021 – Project installation
About this program
Re-imagine and regenerate the city
Historically, pandemics have forced humans to break with the past and imagine their world anew. This one is no different. It is a portal, a gateway between one world and the next.
Arundati Roy, The Pandemic is a Portal, Financial Times, April 2020
We're seeking Indigenous and non-Indigenous artists to create public artworks that reimagine city spaces and bring Sydneysiders back to the city.
Creative thinkers, artists and multidisciplinary teams with a strong interest in sustainability, communities and urbanism, this is a great opportunity for you to create a temporary public art project in the heart of the city by 11 January 2021.
This project is part of the City of Sydney and NSW Government's $20 million fund to boost the city centre economy, support businesses and create jobs across the vital summer period.
Artist's brief
Our once globalised city, now unusually empty, asks us to reconsider, reconfigure and regenerate public space and public life. The Covid-19 pandemic represents an extraordinary opportunity to pursue public art projects that interrogate, evaluate and reorient our civic spaces and how they influence people's experiences of our city.
We're seeking inventive projects unafraid to explore and inspire new experiences in reinterpreted public spaces, in particular laneways.
Bold, fresh, relevant and meaningful interventions that reflect on Sydney's past, present and future will be favourably looked upon, as will proposals that respectfully include Aboriginal stories, knowledge and heritage.
Ideally, proposals will present a strong visual and sensory impact harnessing an increased sense of empathy for each other, the natural environment and contribute to the sustainability, health and wellbeing of people and city spaces.
We welcome concepts that include:
installations
environmental art
plant-based projects
soundscapes
augmented/mixed reality
projected visuals
timed based media art
socially engaged practices
Mural art can form a component of your concept, but we won't accept mural or street art only.
View previous laneway artworks.
Locations
You can choose from the following locations:
Bridge Street/ Abercrombie Lane/ Tank Stream Way
Little Hunter Street
Wynyard Street and Wynyard Lane
Barrack Street
Temperance Lane
Wilmot Street and Central Street
Barlow Street
St Laurence Lane
If 2 selected proposals are received for the same location, we'll work with one of the teams to identify a suitable alternate location.
Briefing for artists
A briefing was held on Friday 6 November.
Download a copy of the presentation including the questions and answers discussed.
Selection criteria
Strength and innovation of the concept, proposed approach and methodology
Response to the brief, site, context and local communities
Artist's previous experience or demonstrated potential to work site-specifically
Capacity to install the artwork by 11 January 2021 within the budget
Timeline
10am Monday 16 November – Applications close
Mid-November – Projects awarded
November to December – Project development
11 January 2021 – Project installation
Projects are to be installed for a minimum of 1 month with a preferred time frame of up to 6 months.
Budget
We're offering $50,000 including GST per artwork for up to 4 projects. This must include all costs associated with delivering, installing and removing the final artwork. Low impact works will be required to avoid length in achieving planning approvals and owners' consents. We'll assist in this process and cover fees for acquiring approvals.
Application requirements
All applications must be made through the online form. Emailed submissions won't be accepted.
Applications close 10am Monday 16 November 2020
To complete the form you'll need to provide:
Idea, concept outline and methodology
Sketch/concept visuals
CV of all team members including relevant experience and names and contacts of 2 referees
Maximum 2 examples of relevant completed artworks.
Examples should only be 1 A4 page with images and a short description of the project and your role in it.
Timeline indicating installation by Monday 11 January 2021
An indicative production budget
Contract
By applying to this expression of interest, artists are agreeing to the terms outlined in the public art commissioning agreement.
Enquiries
For all application queries regarding the online form, please contact Linda Fiskus [email protected]
For all queries relating to the artist's brief, email [email protected]