Compulsory smoke alarms in NSW
The devices must be installed in properties where people sleep and even in caravans and motor homes.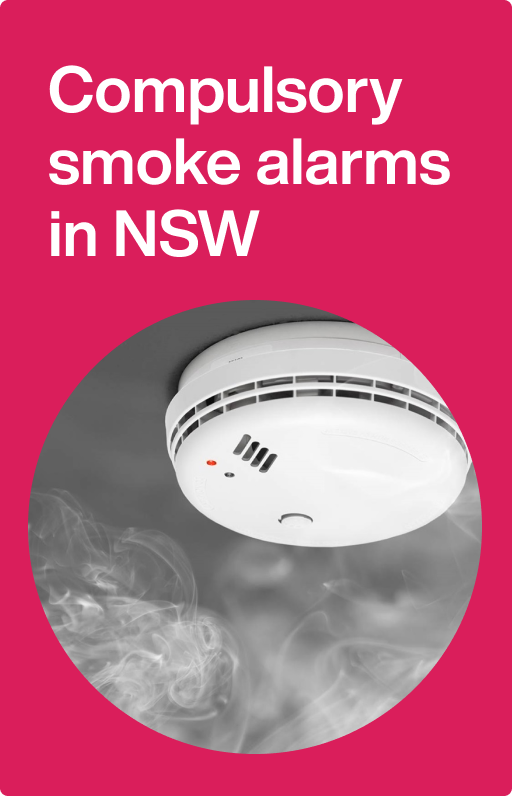 The state government introduced the compulsory laws because smoke alarms save lives. They can detect a fire well before the smell or heat would wake a sleeping person.
Smoke alarms are reasonably priced and readily available. You can choose whether to install units powered from the mains electricity supply by hardwiring or batteries.
Any smoke alarm that complies with Australian Standard 3786–1993 will meet the legal requirements. The size of your property will determine how many fire alarms you need.
It's an offence to interfere with or remove an existing smoke alarm, unless it's for repair, maintenance or replacement.
More information on smoke alarm laws is available from NSW Planning and Environment. For tips on fire safety at home, visit Fire and Rescue NSW.
Types of alarms
The type of alarm you need depends on your dwelling. Private dwellings require an Australian Standard 3786 hard-wired smoke alarm. Fire and Rescue NSW recommends photo-electric alarms.
The number of alarms you'll need depends on the size of your dwelling and its configuration. A private dwelling needs an alarm placed on the ceiling in an area between sleeping and living areas such as a hallway leading to a bedroom, as well as in any other storey of the same building, even if it does not contain bedrooms. You can get more information about alarms from Fire and Rescue NSW.
Fire safety for boarding houses
All boarding houses in the local area ought to follow fire safety guidelines. These guidelines aim to reduce the chance of fire, and also limit a fire's impact.
Boarding houses should have fire safety:
plans that explain how to escape the building in case of fire, and what should be done afterwards
measures such as smoke alarms, evacuation lighting, fire extinguishers and fire blankets
management that involves the owner, operator and occupants following simple steps to reduce the likelihood of a fire breaking out
statements.
Boarding houses also need to be registered with the NSW Department of Fair Trading.
External cladding
Combustible external cladding can be a fire hazard. Ensure your building's material is safe and have it inspected by a qualified building consultant.
Fair Trading has more information on the topic for owners, tenants, strata managing agents and building, property and maintenance managers, and real estate agents.