Emergency advice: lightning
You can reduce the risk to your family and property during storms. Have an emergency kit on hand especially at night.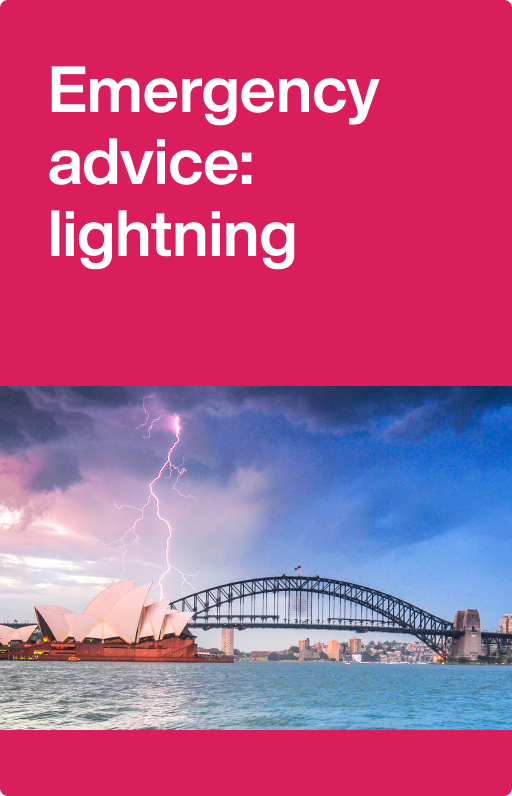 What to expect from lightning
Lightning from thunderstorms can happen anywhere at any time of the year. It can be accompanied by heavy rain, strong winds and large hailstones.
You can reduce the risk to your family and property from being struck by lightning.
Be prepared
Check with a licensed electrical contractor for advice on surge protectors to protect your electrical equipment. Lightning conductors can disperse the effects of extreme weather if your property is struck.
Have your emergency kit on hand – especially at night if there is an unexpected electricity blackout. It should include a battery-operated radio, torch and spare batteries.
Keep a list of emergency contacts handy.
Act safely
If you are caught outdoors when lightning starts:
Seek shelter in a hard top vehicle or solid building. Never shelter under a tree or group of trees.
If you are far from shelter, crouch down – don't lie flat.
If you are boating or swimming, leave the water immediately.
Avoid metal objects such as ladders, umbrellas, fences and clothes lines.
Secure your pets in a safe place.
If you are indoors when lightning starts:
Disconnect computers, televisions and other electrical/electrical appliances from the power socket.
Avoid using landline telephones unless it is essential.
Keep clear of windows and external doorways.
Avoid metal fixtures such as roofs, guttering, downpipes and taps.
After lightning
Keep your radio tuned to your local ABC radio station for weather updates and power outage information.
Check your fuse box in case the surge protection/circuit switch has turned off your electricity supply. When it's safe, you can switch it back on. Check your essential household electrical appliances are working. If not, seek help from a qualified electrical contractor.
Check with your friends, family and neighbours to ensure they are safe.
More information about lightning and storms
The NSW State Emergency Services website can help you develop:
The NSW Government's state storm plan details how emergency information is provided to agencies and service providers responsible for helping communities, particularly vulnerable people, during storms.
This information has been adapted from the Bureau of Meteorology website and the NSW SES website.