Trees and neighbours
Want to prune overhanging branches from a neighbour's tree in the City of Sydney area? You need to apply for permission. Find out more.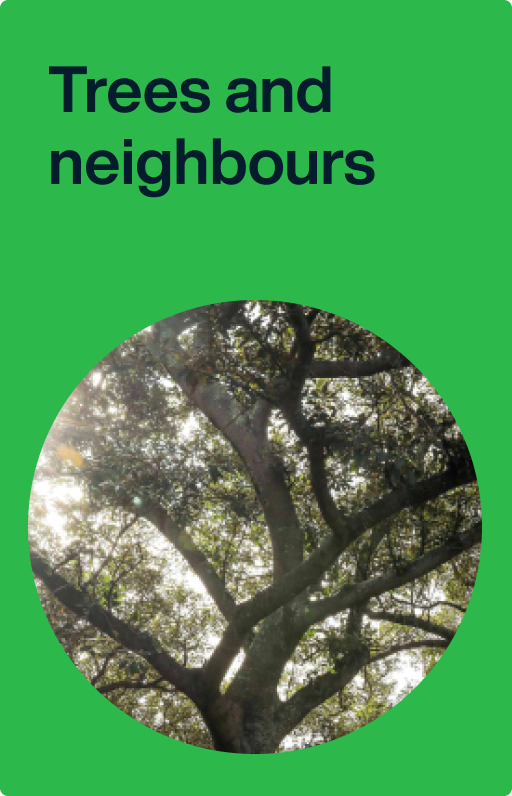 What you need to know
If you'd like to prune overhanging branches from a neighbour's tree, you need to apply for permission. All trees of a certain size are protected in the City of Sydney local area. Although you don't need your neighbour's permission, you may want to tell them of your intentions beforehand as a courtesy.
We will also notify your neighbour of your application and they will be given 14 days to comment before it's determined. If we approve your application, all pruning must be done on your property – the permit does not give you or your contractor permission to enter your neighbour's place.
Only your neighbour can give you permission to prune the tree from their property.
Please note, you can only apply to prune a neighbour's tree. We will not accept your application if it relates to removing a neighbour's tree. We cannot grant you permission to remove your neighbour's tree without their consent.
Disputes over trees
Disputes over trees can sometimes arise between neighbours, for example, if tree roots or branches are damaging a shared fence. In such situations, the first step is always to discuss the problem with your neighbour.
Try to negotiate a solution that satisfies you both. We cannot step in to resolve disputes over trees. Under NSW laws, councils do not have the authority to order a resident to prune or remove a tree, if it's impacting on a neighbouring property.
Disputes between neighbours need to be resolved between the parties. If an agreement can't be reached, the next step is mediation, organised by a Community Justice Centre or legal action in the Land and Environment Court.
Mediation
Community Justice Centres provide free mediation services to people across NSW. If you and a neighbour are locked in a dispute over a tree, mediation is a practical alternative to legal action. A trained mediator will meet with you and your neighbour to discuss the problem and help you to resolve it.
Legal action
If mediation fails, property owners can apply to the NSW Land and Environment Court to resolve the matter. Under NSW law, the court can make orders to "remedy, restrain or prevent damage to a property" (or injury to a person) caused by a tree on adjoining land. The court may also order compensation for damage already caused by a tree.
You can only apply to the court if you've already made a reasonable attempt to resolve the situation. Check the Land and Environment Court's website before you consider making an application.
Please note, this information and the relevant law (Tree (Disputes Between Neighbours) Act 2006) only applies to trees on private property. If you have concerns about a tree located on council land, contact us.