George Street pedestrian boulevard and Devonshire Street public space
9,000 square metres of pedestrianised space will be created in the city centre and an open public space will be established in Surry Hills.
Project Status:

In progress

The area between Bathurst and Goulburn streets is now open for people walking. Remember to look out for the light rail and take care when crossing.
Kristina Kalnins
Senior Communications & Engagement Advisor
Construction related enquiries
What we're doing
We're extending the pedestrian boulevard of George Street, Sydney from Bathurst Street to Railway Square and creating a new public space on Devonshire Street between Chalmers and Elizabeth streets, Surry Hills.
George Street south, pedestrianised from Bathurst Street to Rawson Place, will create 9,000m2 of additional car-free space in the city centre. The project is supported at all levels of government. It will be completed with a $7.05m contribution from the Commonwealth for part of the project on George Street and $1m from the NSW Government for the overall project.
The project includes:
extended pedestrianised zones at the southern end of George Street between Bathurst Street and Rawson Place
open space improvements on George Street between Rawson Place and Pitt Street, Ultimo Road, Thomas Street and Hay Street
more than 9,000 square metres of new space for walking
granite footpaths to replace car lanes
new street trees, seating and lighting
spaces for outdoor dining
simpler intersections to reduce travel times for everyone.
Local access and emergency services access will be maintained.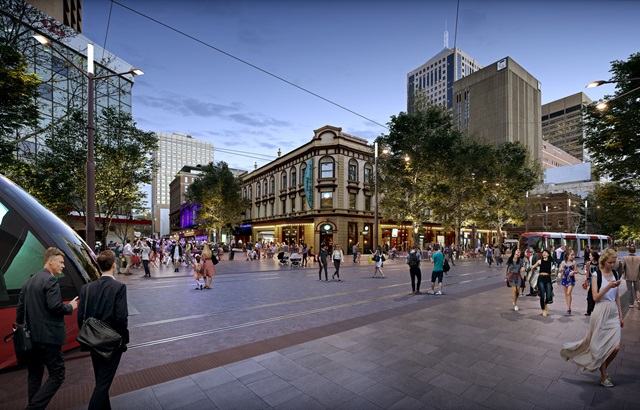 Next steps
The proposal was endorsed by Council on 14 December 2020. View the meeting minutes (refer to item 8.7).
Our contractor, Sydney Civil, will carry out the works.
Construction works on George Street began in March 2021 and are being completed in stages to minimise disruption.
The project is progressing and the mid-block sections between Bathurst Street and Goulburn Street are now open. This area is a shared environment with the light rail, so remember to use caution when walking across the tracks.
Works are underway south of Goulburn Street to Rawson Place and should be completed in 2022.
Work on Devonshire Street in Surry Hills is planned to start in 2022.
Sydney Civil's community liaison officer will contact local residents and businesses before construction starts in your area. They will keep you informed about the details and program of works on either side of the tracks.
Sign up for project updates
We encourage you to sign up for regular updates about this project.