Makerspace kits
We want to inspire learning in science, technology, engineering, arts and mathematics.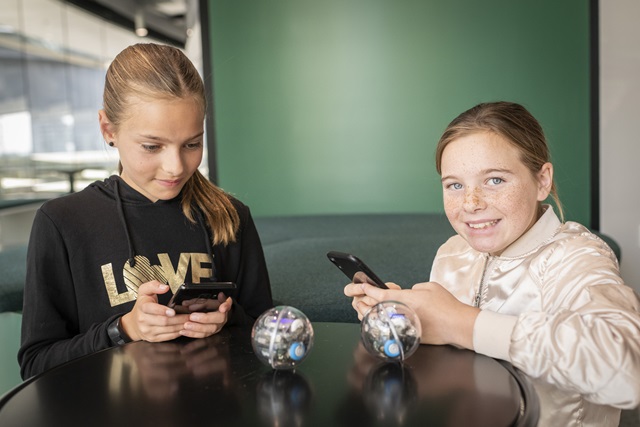 Learn at home
Experiment and explore with our new makerspace collection of over 180 robotic and educational kits available to borrow.
Borrowing makerspace kits
Library members can borrow 1 kit from the makerspace collection for 3 weeks.
Kits can be reserved using the online catalogue, however they need to be collected from and returned to a library team member.
Fees apply for lost or damaged items.
Alternatively, members can replace the lost or damaged part with the exact item or model number in new condition.
Robotic kits
Edison Robot v2.0
Learn about robots and programming with this Lego compatible robot. When Edison drives over a special barcode, pre-programmed functions like 'avoid obstacles' or 'follow a line' are activated, perfect for beginners. You can use your computer or tablet to program Edison in one of 3 programming languages. For ages 5+
Ozobot Bit 2.0
This small robot is simple and intuitive for beginners and also has highly programmable and versatile functions to satisfy the most experienced tinker. Ozobot can be controlled by drawing lines and colour segments or using a block-based programming editor available free online. You'll be able to create and send the Ozobot through an endless array of mazes, maps and racetracks in no time. For ages 6+
Sphero SPRK+ edition
The Sphero robotic ball is designed to inspire curiosity, creativity and invention through connected play and coding. Learn simple programming using a free app to control the ball via Bluetooth and complete hands-on activities and games. For ages 8+
Electronic kits
Circuit Scribe Kit
Get an introduction to basic and more advanced concepts of circuits. With this kit you can build your own circuits using a special conductive ink pen, magnetic modules and paper. You'll be able to create blinking lights and beeping buzzers. For ages 8+
Makey Makey Kit
You'll get to turn everyday objects into internet touchpads to control games or keyboard functions. It's a simple and fun invention kit for all levels of experience. For ages 8+
Snap Circuits
Learn about electricity with this fun kit of reusable circuit components that easily clip together. There's over 100 projects to build from simple switches and lights to alarms, touch circuits, flying fans, flashing lights, games, sound effects and more. Instructions are easy to follow and no tools are needed. For ages 8+
Honeycomb Music Kit
Turn any conductive object, including fruits and vegetables, into musical instruments with this fun kit. Kids will develop logical and creative thinking as they discover everything is musical. For ages 5+
BBC micro:bit
A pocket-sized codeable computer to make all sorts of robots and musical instruments. It comes with motion detection, a built-in compass, and Bluetooth to interact with other devices and the internet. For ages 11+
Little Bits Synth Kit
Explore the science of sound, make music and create instruments with this modular synthesiser kit. Learn about electronics with oscillators, filters, keyboards, and more. For ages 14+
PocketLab Voyager
Anyone can be a scientist with this all-in-one portable science lab kit. Suitable for school students to professional engineers, learn how to conduct science experiments to measure motion, altitude, light, magnetic fields, temperature and weather. For ages 10 +
Barska Microscope
Explore unseen worlds with this wireless digital handheld microscope. The microscope wirelessly streams live footage to your mobile device from over 30 metres away while magnifying items with a 75x x 300x optical zoom. Users can digitally capture images of magnified items with 640 x 480 resolution. For ages 8+
Micro:bit Experiment Box
Experiment with circuit design and programming with this fun kit. Use banana plug wires to connect different components and learn about circuit design. The box includes traditional components such as temperature sensor, photocell, servo, motor and LEDs. You'll also learn about electronic components, circuit design and programming. For ages 9+
Merge Cube Kit
This kit is great way to learn through virtual reality. Using the Merge Cube and your mobile device you'll be able hold and interact with virtual objects in your hand. Learn about anatomy, math, science, engineering and more. For ages 10+
Specdrums Kit
Create music anytime, anywhere and make the world your instrument. Specdrums are app-enabled rings that turn colours into music. Tap any colour around you, clothes, drawings or the included playing pad to create sounds, loops and beats via the app on your mobile device. For ages 5+
Books
Need inspiration? We have a wide range of books relevant to our makerspace kits and broader STEAM topics available to borrow.
From the Big Book of Makerspace Projects to Building your own robots, browse a curated list of titles.