Fees and charges for joining or using a library
Membership is free for NSW residents. Complete the online application form and enjoy borrowing up to 30 items for 3 weeks.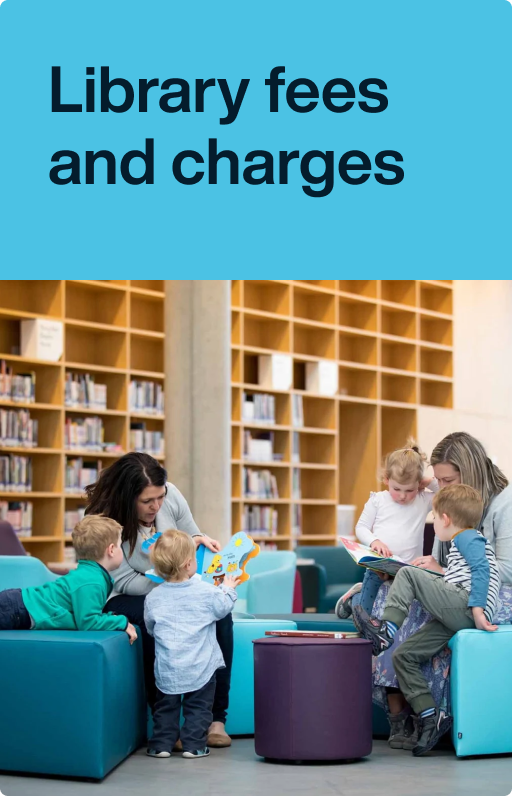 The library is a great place to relax, meet friends, read or research. It has free internet access via library computers, free wifi and mobile device charging stations. It is open 7 days a week.
While it's free to join for residents, charges apply for various other services.
Library membership, reservations and loans
| Description | Pricing code | Unit of measure | $ fee | GST |
| --- | --- | --- | --- | --- |
| Residents | Legislative | annual | 0.00 | 0% |
| People living outside the City of Sydney local area | Zero | annual | 0.00 | 0% |
| Workers within the City of Sydney local area | Zero | annual | 0.00 | 0% |
| Non-resident – with seniors card or on benefits | Zero | annual | 0.00 | 0% |
| Non-resident – children up to 18 years of age | Zero | annual | 0.00 | 0% |
| Non-resident – homeless | Zero | annual | 0.00 | 0% |
| Non-resident – living in post code 2042 | Zero | annual | 0.00 | 0% |
| Special membership | Market | annual | 0.00–100.00 | 0% |
| Replacement membership card | Market | per card | 5.00 | 0% |

| Description | Pricing code | Unit of measure | $ fee | GST |
| --- | --- | --- | --- | --- |
| Non-resident – no permanent NSW address quarterly membership | Market | quarterly | 20.00 | 0% |

| Description | Pricing code | Unit of measure | $ fee | GST |
| --- | --- | --- | --- | --- |
| Inter-library loan | Market | per item | 6.00 | 10% |
| Rush and express inter-library loan (minimum fee – fees vary depending on rate charged by other library) | Market | min fee/item | 55.00 | 10% |
| Inter-library loan – charging library (minimum fee – fees vary depending on rate charged by other library) | Market | per item | 30.00 | 10% |
| Request of purchase | Zero | per item | 0.00 | 10% |

Description
Pricing code
Unit of measure
$ fee
GST
Replacement fee
Replacement Fee - based on cost of item
Full cost
per item
Fee + GST
10%
Processing fee
Lost Book
Market
per item
5.00 – 20.00
10%
Lost Periodicals

Market
per item
5.00 – 20.00
10%
Other lost items - including makerspace kits,
musical instruments, gaming consoles, CD's, DVD's, audiovisual equipment
Market
per item
5.00 – 20.00
10%
Library services
| Description | Pricing code | Unit of measure | $ fee | GST |
| --- | --- | --- | --- | --- |
| A4 colour | Market | per page | 1.00 | 10% |
| A3 colour | Market | per page | 2.00 | 10% |
| A4 black & white | Market | per copy | 0.20 | 10% |
| A3 black & white | Market | per copy | 0.30 | 10% |
| A4 laser black & white | Market | per A4 page | 0.20 | 10% |
| A4 laser colour | Market | per A4 page | 2.00 | 10% |
| A3 laser black & white | Market | per page | 0.30 | 10% |
| A3 laser colour | Market | per page | 3.00 | 10% |
| 3D printing set up fee | Market | per job per item | 5.00 | 10% |
| 3D printing time (a maximum fee of $30 per 3D printing job applies) | Market | per hour | 3.00 | 10% |

| Description | Pricing code | Unit of measure | $ fee | GST |
| --- | --- | --- | --- | --- |
| Members | Zero | per half hr or part | 0.00 | 10% |
| Non-members | Zero | per half hr or part | 0.00 | 10% |

| Description | Pricing code | Unit of measure | $ fee | GST |
| --- | --- | --- | --- | --- |
| Members | Zero | per hr or part | 0.00 | 10% |
| Non-members | Market | per hr or part | 3.50 | 10% |

| Description | Pricing code | Unit of measure | $ fee | GST |
| --- | --- | --- | --- | --- |
| Library bag | Market | each | 1.00 – 30.00 | 10% |
| USB stick | Market | each | 5.00 – 20.00 | 10% |
| Headphones | Market | each | 5.00 - 30.00 | 10% |
| Bicycle puncture repair kit | Market | per pack of 5 | 5.00 | 10% |
| Low value library items and merchandise (small size/high volume/standard quality) | Market | per item | 0.00 - 100.00 | 10% |
Hiring and using the library
| Description | Pricing code | Unit of measure | $ fee | GST |
| --- | --- | --- | --- | --- |
| Venue hire – commercial | Market | per hour | 220.00 | 10% |
| Venue hire – community | Market | per hour | 110.00 | 10% |
| Staff site supervision | Partial cost | per supervisor per hour | Fee + GST | 10% |
| Security (recovery of City of Sydney costs) | Full cost | per booking | Fee + GST | 10% |
| AV technician – quoted upon request (min 3 hours) | Market | per hour | Fee + GST | 10% |
| Damage to equipment/furniture (recovery of City of Sydney costs) | Full cost | per repair | Fee + GST | 10% |
| Cleaning fee – applied if additional cleaning required (recovery of City of Sydney costs) | Full cost | per clean | Fee + GST | 10% |
| Late exit fee (all library rooms and facilities) | Partial cost | per half hour | 56.00 | 10% |
| Cancellation fee | Partial cost | per cancellation | 36.00 | 10% |
Technology program and book club
| Description | Pricing code | Unit of measure | $ fee | GST |
| --- | --- | --- | --- | --- |
| Technology class – full | Market | per session | 0.00–200.00 | 10% |
| Technology class – concession | Partial cost | per session | 0.00–200.00 | 10% |

| Description | Pricing code | Unit of measure | $ fee | GST |
| --- | --- | --- | --- | --- |
| Book club kit annual fee | Market | annual | 0.00–100.00 | 10% |
Meeting, training and IT rooms