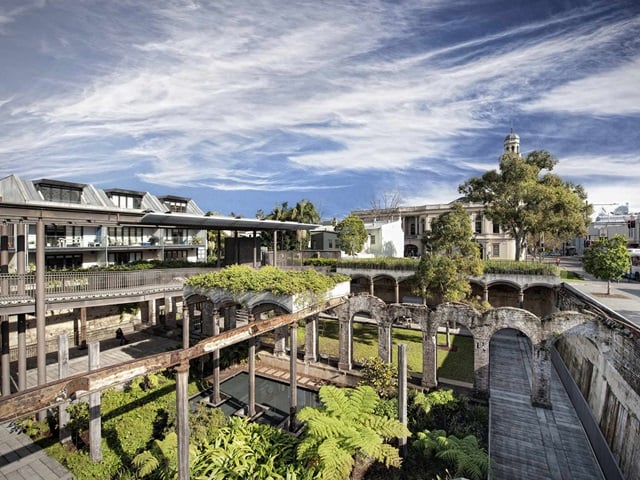 This state heritage-listed site reminiscent of the ancient Baths of Caracalla in Rome presents immaculate gardens with wide boardwalks and entry is free.
Close to transport

included

Attractions

included

Sunken garden and heritage items.

Seating

included

Open and enclosed grass lawns.

Shaded areas

included
The park is comprised of two levels. The street level is accessible at all times but the lower chambers, accessible by an elevator, are only open during daylight hours.
Award-winning park in the east
Paddington Reservoir Gardens has been completely transformed from its former life.
The reservoir was a vital source of water for the rapidly growing population in the 19th century. It ceased supplying water in 1899 and the site has been through a couple of uses since, including a garage and a petrol station. It is now state heritage-listed.
Hailed as a blend of the ancient Baths of Caracalla in Rome and the Hanging Gardens of Babylon, Paddington Reservoir Gardens opened in its current form in 2009.
The project has restored as much of the reservoir's original framework as possible, and re-imagined the space in a new way. Original brick, timber and iron fixtures were salvaged and the site is fused with contemporary and sustainable elements. It truly is a thrilling blend of old and new.
Stroll through the immaculate gardens and wide boardwalks. There are plenty of places to sit and have a rest. The roof-top features a stunning sunken garden, and vibrant graffiti art has been preserved in the eastern chamber. Hang around until the sun sets if you can, as the lighting detail transforms the space once again.
Paddington Reservoir Gardens won the Australian Award for Urban Design in 2009. The public space has also received the seal of approval from the ABC's Art Nation and Gardening Australia. The gardens are accessible and entry is free.