Apply for a filming or photography permit
You need to request permission before your shoot begins in the City of Sydney area.
Project Status:

When you need to do this

To film or photograph on City of Sydney-owned or controlled land, you'll need our permission.
A permit is typically needed for fashion magazine shoots, TV programs, commercials, B-roll, student film projects and major studio productions.
A permit is generally not needed for things like same-day wedding photography, but it is your responsibility to ensure approval is not needed.
Public land includes outdoor areas such as footpaths, roads, parks and other open spaces.
What you need to do
Check what approvals you need

Approval is required to film or photograph on public land. Our government landowners map shows which areas require permission from City of Sydney and other authorities.

If you're filming on private property, with no activity on City of Sydney public land, or parking permit requirements, you don't need to apply for our consent but you'll need to lodge a filming management plan.

Determine your application category

Fees and lead times are determined by the size of your production.

Ultra-low impact

Generally less than 10 crew, 1 camera, sound, 1 light, no infrastructure and not on the road.

Low impact

11–25 crew, no more than 4 trucks and vans, minimal equipment and lighting, small unit base, usually 1–2 locations.

Medium impact

26–50 crew, maximum 10 trucks, some equipment (including dolly, jibs), unit base, maximum 4 locations.

High impact

More than 50 crew, more than 10 trucks, significant construction, extensive equipment, large unit base.

Parking only

When filming on private property and parking is required.

Talk with a film liaison officer

We encourage you to contact us at the earliest time before applying on 02 9265 9333 or [email protected]. We can advise the best process to follow, and provide guidance on who you need to notify, as well as any additional requirements like parking and insurance.

Prepare your supporting information

Information you provide must be clear, detailed and honest to help us make an informed decision. It must include a specific equipment list, an accurate assessment of the number of vehicles and crew and realistic descriptions of activities and timeframes. See application requirements.

Complete the application form

If your production or photo shoot meets all of the criteria to be classified as ultra-low impact, you can complete our online application form.

Otherwise, you need to download and complete the form below.
Lodge your application

Email the completed form to [email protected].

Applications must be lodged with full and complete details, which are not subject to change. As a minimum, the applicant's public liability insurance certificate of currency must also be included.

Applications with missing or incomplete details will be rejected.

Keep a copy of your application. If you need to send further supporting documentation, please attach a copy of your application with your email.

Pay the application fee

Once your application is submitted the associated application fee as stipulated under the local government filming protocol must be paid. It is non-refundable for cancellations or rejected applications.
Criteria for ultra-low impact filming and photography
Ultra-low impact filming and photography includes a maximum of 1 camera, 1 light, 1 piece of sound equipment and 1 tripod, and purely a piece to camera located in a park, open public space or footpath.
No other equipment is permitted under this type of application.
This application cannot be used for commercial filming/photoshoots or where booking of a location is required.
No activities can be approved on any open roadways under any conditions of this application such as laneways or other areas where there is no usable footpath.
The production should not require parking, traffic control or road closures and it should not affect people walking, businesses or residents.
Apply for ultra-low impact permit
There is no application fee for an ultra-low impact application.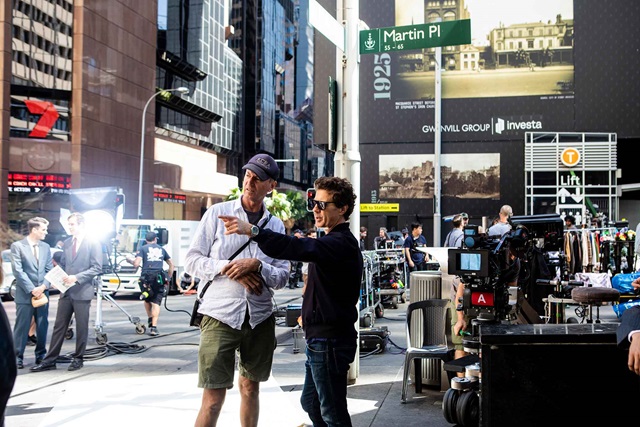 Need a hand?
Read our guide, then contact a film liaison officer.
Film, photography and drone enquiries
Application fees
Valid 1 July 2021 to 30 June 2022
There is no application fee for an ultra-low impact filming application.
Fees are GST exempt unless specified.
Apply for a reduction or waiver of fees
You may be eligible for a reduction or waiver of fees if:
the production and application is by a registered charity or not-for-profit organisation where the primary purpose is for the improvement/benefit to the City of Sydney community
the production and application is by an educational institution relating directly to a course or curriculum based assignment, and solely for a non-commercial purpose.
To apply for a reduction or waiver of fees, download and complete the reduction/waiver of filming fees application.
Land ownership
Our area includes some precincts that require applications and permits from other authorities.
The government landowners map will help you determine the authority for the area of your production.
Contacts for other authorities
Centennial Park, Queens Park, Moore Park, Driver Avenue and other roads within
Inside train stations
Royal Botanic Garden, The Domain, Mrs Macquarie's Chair, Hospital Road and other roads within
Circular Quay, The Rocks, Darling Harbour, Pymont wharves, Pyrmont Point and other areas of Pyrmont/Ultimo
Sydney Opera House including forecourt areas
All state roads such as the Sydney Harbour Bridge, Anzac Bridge, Cahill Expressway, Western Distributor and Botany Road
Filming on private property
If you're filming on private property, you don't need to apply for our consent but you'll need to lodge a filming management plan.
The management plan needs to include:
your company details
a description of the filming to take place
the proposed location
start and end dates
crew size
details of temporary structures
equipment to be used such as handheld or mounted cameras
parking arrangements
any expected disruption to the surrounding area such as noise, vibrations, release of smells and the use of lighting or special effects
copies of approvals that you need from other public authorities such as the police.
You must also follow the state government's planning restrictions in relation to the property.