Green Square to Ashmore Connector: review of environmental factors
Assessing the impacts on plants and animals, design and operational requirements, and construction issues.
Project Status:

Closed

Following your feedback, we've revised the review of environmental factors and we invite your feedback. Consultation closes at 5pm on Monday 17 May 2021.

Public consultation period

to
What we're doing
The road will connect Geddes Avenue in the Green Square town centre with Bowden Street in Alexandria.
It will also link to Botany Road, O'Riordan Street and Bourke Road.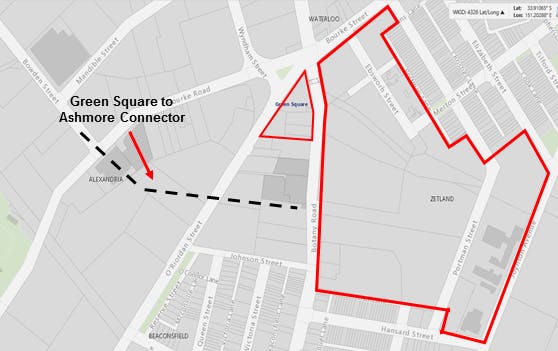 The proposed road will include a separated cycleway, provide better access for people walking and using public transport, and deliver potential for affordable housing on nearby land.
Work is expected to start in 2019 and be completed by 2020.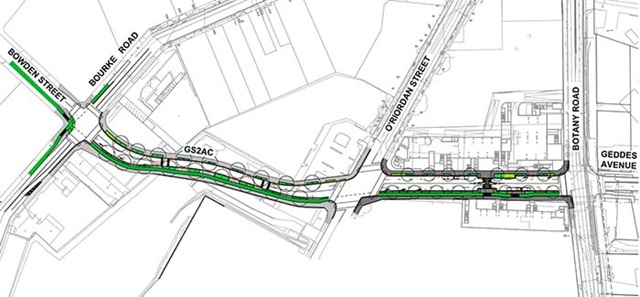 The review of environmental factors covers:
engineering, environmental and planning factors
design and operational requirements
construction impacts and risk mitigation strategies
impacts on flora and fauna
legislative requirements and approvals.
How you can give feedback
Give your feedback by completing an online form.
Or in writing, quoting 'Green Square to Ashmore Connector REF' and your name and address.
You can email your submission to [email protected] or post it to:
Chief Executive Officer
Attn: Suzanne Lange, Specialist Design Manager – Landscape
City of Sydney
GPO Box 1591
Sydney NSW 2001
Submissions are open until 5pm on Friday 2 February 2018.
Feedback may be published in publicly available reports at the end of the consultation period. Your name or organisation's name may appear in these reports with your feedback attributed. If you would like your feedback to be kept confidential, please let us know when making your submission.
Other ways you can give feedback