Your say on the proposed name Mount Carmel Place in Waterloo
We're proposing to officially name the small road behind Our Lady of Mount Carmel Primary School, Mount Carmel Place.
Project Status:

Open for feedback

We invite your feedback on this proposal.

Public consultation period

to
Gareth Jenkins
Senior Community Engagement Coordinator
What we're doing
We're proposing to name the private road that runs from Kellick Street behind the school in Waterloo Park, Mount Carmel Place.
The name recognises the long historical association of Our Lady of Mount Carmel Catholic Church and School with the communities of Waterloo. The school and church have provided educational facilities and a place of worship to the local community since the 1850s.
In 2008 the local school, Our Lady of Mount Carmel, approached Council to name a private road on the boundary of the school, Mount Carmel Way. It was not officially named at the time but the lane was signposted, Mount Carmel Way.
We cannot use 'Way' under the standards set by the NSW Geographical Names Board, as the road is not a thoroughfare to another street.
In 2021 the parish priest requested that the road be officially named. The road provides access to the rear of the school and the priest's residence. It is important it's officially named to ensure it's easy for emergency services to find.
Council resolved at its meeting on 27 March 2023 to seek community feedback on the proposed name. This is the first step in officially naming the road.
In line with Geographical Names Board of NSW policies, we're proposing to name the road Mount Carmel Place instead of Mount Carmel Way.
Next steps
Your feedback on this proposal will help us assess the level of community support for the proposed name.
We will report the results to Council to endorse the name. We will then send our proposal to the Geographical Names Board.
Once approved, the official name will be entered into the Geographical Names Board database.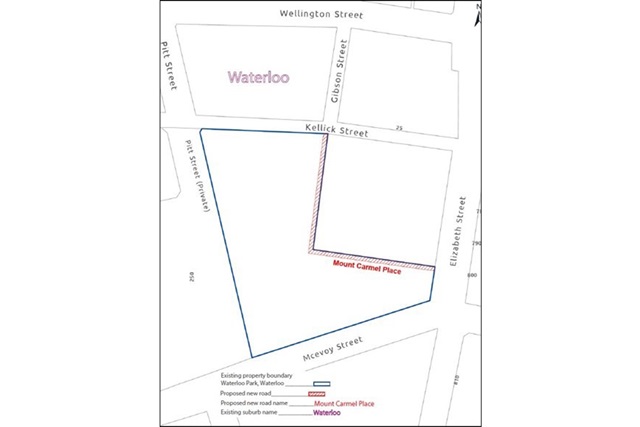 How you can give feedback
Consultation closes at 5pm on Friday 9 June 2023.
Complete our survey

Email or post your feedback

You can also give feedback by email to [email protected] or post to:

Gareth Jenkins
Senior Community Engagement Coordinator
City Engagement
City of Sydney
Town Hall House, Level 7, 456 Kent Street
Sydney NSW 2000
Feedback may be published in publicly available reports at the end of the consultation period. Your name or organisation's name may appear in these reports with your feedback attributed. If you would like your feedback to be kept confidential, please let us know when providing your feedback.
Other ways you can give feedback