Proposed traffic calming - Bulwara Road, Ultimo
We invite your feedback on 2 proposals to increase safety for people walking.
Project Status:

Closed

Public consultation period

to
Van Le
Traffic Manager - North
What we're doing
We invite your feedback on 2 proposals to further calm traffic in Bulwara Road, Ultimo. In 2015, we installed a shared zone and a speed cushion where Bulwara Road meets Quarry Street to calm traffic and improve access for people walking.
We places a high priority on improving safety for people walking and wherever possible will implement appropriate traffic calming measures.

Proposal A
We'll extend the existing shared zone at Quarry Street to Fig and William Henry streets by installing slow point (meandering) treatments.
If this proposal is strongly supported it will require funding, a detailed civil investigation and approval from Transport for NSW. The proposal would include high impact road works for an extended period of time, the potential loss of 10 parking spaces and will require people to walk and ride in the middle of the street while sharing this space with drivers.

Proposal B
We'll install an additional 4 speed cushions along Bulwara Road between Fig and William Henry streets. If this proposal is strongly supported it will be considered at the April meeting of the Local Pedestrian, Cycling and Traffic Calming Committee. If it's endorsed by the committee, works would be completed within the year.

Proposal A and B include signposting the bicycle contraflow and upgrading the existing continuous footpath treatment at William Henry Street.
Public meeting
Our employees and Lord Mayor Clover Moore will discuss these proposals at a public meeting from 6.30pm to 7.30pm on 25 February at the Ultimo Community Centre, 40 William Henry Street,Ultimo.
We'll consider all submissions we receive and will report the results to Council.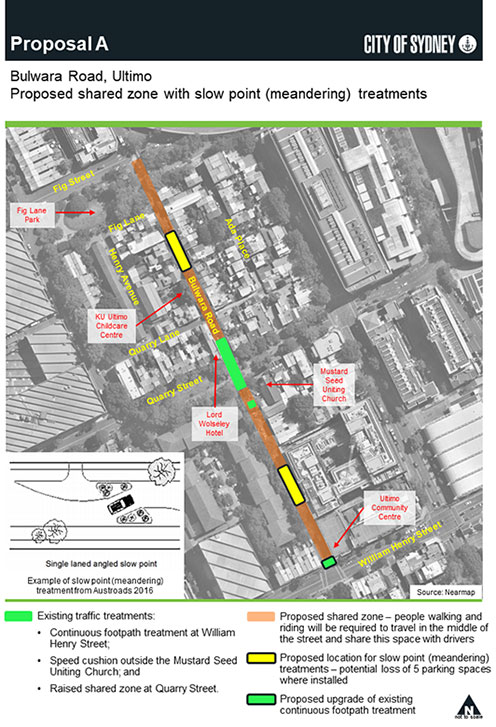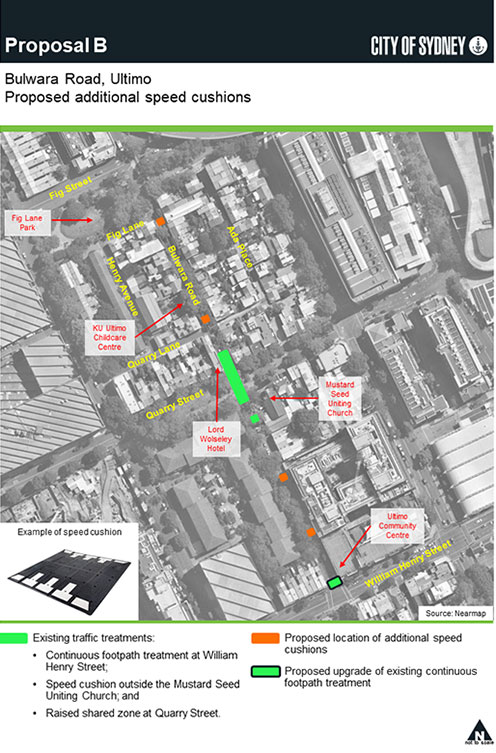 How to give your feedback
You can give your feedback by completing an online form.
Consultation closes at 5pm on Tuesday 10 March 2020.

Feedback may be published in publicly available reports at the end of the consultation period. Your name or organisation's name may appear in these reports with your feedback attributed. If you would like your feedback to be kept confidential, please let us know when making your submission.
Other ways you can give feedback