Your feedback on the revised design for James Watkinson Reserve, Pyrmont
In response to community feedback we've revised the proposed design for James Watkinson Reserve, Pyrmont.
Project Status:

Closed

Public consultation period

to
Stephen Merchant
Senior Landscape Architect
Speak up. Sign up.
Get our regular newsletter to have your say.
Why we're doing this
The feedback we received in December 2020 gave a clear message the park is an important social space for the local community. The playground is well used and about the right size, but the equipment is also is old, tired and should be replaced.
People would also like to see more seats for children, parents and carers, more shade and better links between the playground, seats, and paths. The use of more natural materials and providing added nature play experiences would be supported.
What we're doing
The proposal for James Watkinson Reserve includes:
retaining and protecting the existing mature trees and park character
removing the old timber stairs and platform structure
cliff stabilisation repairs and rebuilding sandstone walls
new sandstone link path to provide better access
renewing the play equipment to focus on younger children and includes slides, servery and lookout deck, double swings with bucket seat and nature play area
new path lights to improve night-time safety
replacing the barbecues with new accessible units and tables
providing more seats and a new water bubbler with a dog bowl
improving the turf grass area and adding new shrub and groundcover plants.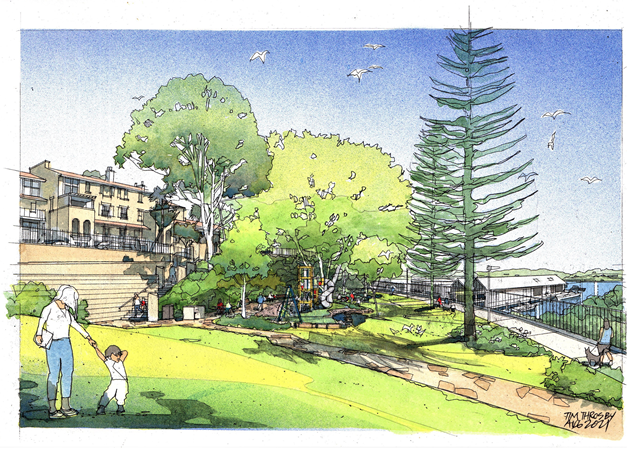 Next steps
We will report all feedback and design changes to Council, and we will continue to a detailed design. We will keep you updated on the progress of this project.
How you can give feedback
Consultation closes at 5pm on Monday 27 September 2021.
We have a range of ways you can provide your feedback:
Complete our feedback form

Attend the online briefing

Connect with the project team through a Zoom video call on Wednesday 15 September, from 6pm to 6:30pm. To join this meeting you will need to register.

Email or post your feedback

You can also give feedback by email to [email protected] or post to:

Senior Project Officer
Strategic Engagement and Community Relations
City of Sydney
Town Hall House, Level 7, 456 Kent Street
Sydney NSW 2000

Talk to us
Stephen Merchant
Senior Landscape Architect
Feedback may be published in publicly available reports at the end of the consultation period. Your name or organisation's name may appear in these reports with your feedback attributed. If you would like your feedback to be kept confidential, please let us know when making your contribution.
Other ways to give feedback
Other ways you can give feedback