Your feedback on proposed upgrade of Edgely Street Reserve, Surry Hills
Upgrading the reserve for everyone to enjoy
Project Status:

Under review

Contributions to this consultation are closed for evaluation and review. The project team will report back on key outcomes.

Public consultation period

to
Darren Picklum
Project Officer – Park Services
What we're doing
We are planning to make improvements to the Edgely Street Reserve.
The proposal includes:
Play tower to replace existing play equipment
New rubber soft fall
New paved areas
An accessible pathway, with one tree to be replaced to make way for the new path
New plants
New benches and sandstone walls for seating.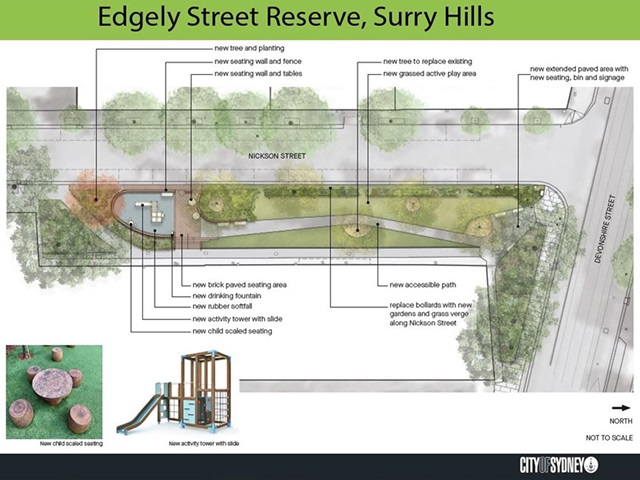 Next steps
We'll report all feedback and design changes to Council, and will continue to a detailed design. We'll keep you updated on the progress of this project.
How you can give feedback
Consultation closes at 5pm on Wednesday 5 April 2023.
Complete our feedback form

Email or post your feedback

You can also give feedback by email to [email protected] or post it to:

Senior Project Officer
City Engagement
City of Sydney
Town Hall House, Level 7, 456 Kent Street
Sydney NSW 2000
Feedback may be published in publicly available reports at the end of the consultation period. Your name or organisation's name may appear in these reports with your feedback attributed. If you would like your feedback to be kept confidential, please let us know when providing your feedback.
Other ways you can give feedback