Your say on increasing tree canopy on Briggs Street, Camperdown
Project Status:

Closed

The Local Pedestrian, Cycling and Traffic Calming Committee approved this project at its meeting in November 2022.

Public consultation period

to
Helen Rogers
Project manager
Why we're doing this
We invite your feedback on a proposal to plant more trees on Briggs Street, Camperdown.
Our Greening Sydney strategy has clear targets for increasing canopy cover across our local area for a cooler and more resilient city.
The current canopy cover of Briggs Street is only 6% and has been identified as part of our program to increase canopy by planting within the roadway. Planting in the roadway will allow the trees to grow in enough soil and away from overhead cables and narrow footpaths.
What we're doing
At Briggs Street, we propose to plant 5 trees in the roadway and 2 trees in the footpath at each end of the street. Caesalpinia ferrea (Leopard wood) will be planted in the roadway and Tristanioposis laurina (Water gum) in the footpath.
These trees will provide shade and contribute to our area's overall resilience in the face of a changing climate. To plant the trees, we'll remove 3 to 4 parking spaces depending on the final design.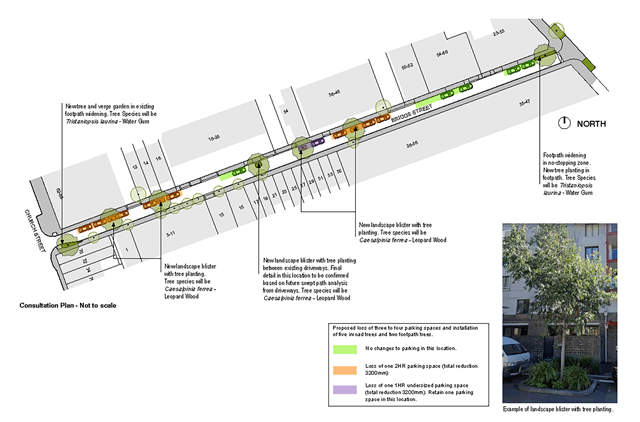 How you can give feedback
Consultation closes at 5pm on Thursday 29 September.
Complete our feedback form

Email or post your submission

You can give your feedback by email to [email protected] or post to:

Senior Project Officer
Strategic Engagement and Community Relations
City of Sydney
Town Hall House,
Level 7, 456 Kent Street
Sydney NSW 2000

Talk to us
Helen Rogers
Project manager
Feedback may be published in publicly available reports at the end of the consultation period. Your name or organisation's name may appear in these reports with your feedback attributed. If you would like your feedback to be kept confidential, please let us know when making your submission.
Other ways you can give feedback