Floor space and employment survey 2017
Data on all businesses for every building in our area.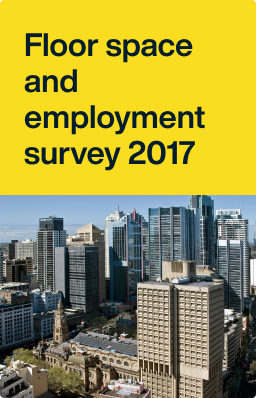 2022 floor space and employment survey
City of Sydney representatives will visit all businesses in our local area.
The survey collects data on all businesses, floor space uses and employment numbers for every building or property in the area. Fieldwork will run from September 2022 to April 2023.
Surveyors will capture:
what industry the business is in
how many workers are in each business
the floor space use of each business.
The data will show how the rise of working from home has affected the area. It will also help monitor progress towards Sustainable Sydney 2030–2050 Continuing the Vision.
Participation from businesses will help us capture accurate data to help meet business needs and provide better services for the community.
Steven Hillier
Research Manager
The 2017 floor space and employment survey was the third full survey within the current City of Sydney local area boundaries. Previous surveys were undertaken in 2007 and 2012.
The fieldwork started in April 2017 and took around 10 months to complete. The 2017 results form the most comprehensive data set of all businesses, floor space, employment and capacity measures.
The local area covers 26.15km² and the estimated resident population was 233,177 at June 2017 (Source: Regional Population Growth, Australia 2017-18 cat. no. 3218.0, released 27 March 2019). The total employment count for the 2017 survey was 501,786 workers.
Total figures
In 2017, in the local area there were:
26,203 buildings
23,511 business establishments employing workers.
Key changes between 2012 & 2017 surveys
Total internal floor space increased by 2.68 million square metres (7.6% increase) to 37,944,887m².
The number of businesses employing workers in the city grew by 8.7% to 23,511 establishments.
The city accommodated 501,786 workers, an increase of 66,017 (15.1% increase) since 2012.
The total number of dwellings counted was 120,656 representing an increase of 18,246 dwellings (17.8% increase).
There were 20,372 hotel rooms (0.5% decrease), 5,800 serviced apartments (29.7% increase) and 7,719 backpacker beds (23.5% increase) counted.
Local area overview and summary
Village groups
The City of Sydney has been divided into 10 village groups.
Each group is unique and dynamic in its own right with its own set of social, economic and environmental characteristics. The 10 village areas are designed to recognise the diversity of local needs and values that exist across the city. The floor space and employment survey reports on each of the 10 villages separately.