The Drying Green – building Green Square's central park
Providing a huge central open space for locals and walking connections to the Green Square town centre.
What we're doing
Wool washing was one of the first industries to develop in Green Square in 1815. The sandy soil was perfect for growing thick conch grass used for drying greens. Fleeces were spread over acres of ground to dry naturally – the fluffy white wool looking like snow.
We named Green Square's central park The Drying Green in celebration of its industrial past.
The 6,200 square metre park will be bound by Portman Street, Geddes Avenue, Paul Street and the future Zetland Avenue.
Terraced lawns, trees, barbecues and shade structures will create a wonderful place for friends and family to gather and play.
We're also building a flat lawn area where you can play ball, spaces for picnics and birthday parties and quiet corners to sunbathe or relax.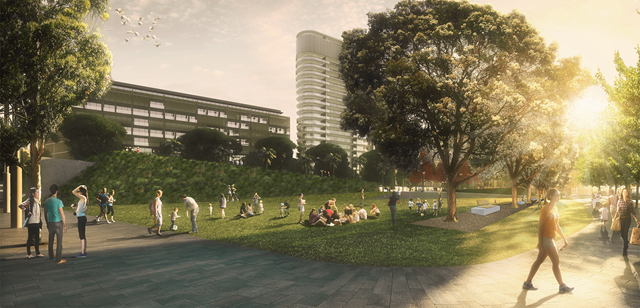 Features
Urban water feature which will also collect and reuse stormwater.
Public amenities building with a green roof and sloping landscaped walls.
Paths for exploring the park.
Solar powered public artwork, Stream by Kerrie Poliness.