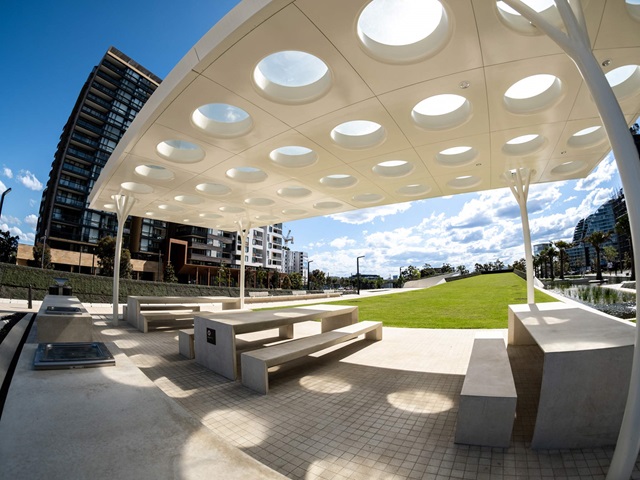 A 6,200m² open space in the heart of the Green Square town centre for friends and family to gather, relax and play. It also provides walking connections to the Green Square town centre.
The Drying Green
Zetland 2017
Open and terraced lawns

included

Picnic area

included

A barbecue area under a shade structure with innovative, clear solar glass.

Picnic area

included

Picnic areas dotted through the park.

Seating

included

Stormwater harvesting

included

A tiered wetland water feature collects and filters stormwater. It reimagines the natural wetlands that existed here as rainwater flowed to Sheas Creek and on to Botany Bay.

Structured pathways

included

Walking and bike riding paths.

Public toilets

included

All gender wheelchair accessible toilet.

Bike racks

included

Attractions

included

Stream, a public artwork by Kerrie Poliness inspired by the site's relationship to water. It forms a meandering glass path across the park that lights up colourfully at night.

The park is next to Matron Ruby Grant Park and recreation space, a creative centre and community shed. Gunyama Park Aquatic and Recreation Centre, a synthetic sports field, library and plaza are all in walking distance to the park.

Close to transport

included

Green Square train station is an 8-minute walk to the park. There are bus stops close by on Botany and Epsom roads and Joynton Avenue.
Mobility parking within 300m

included

Limited parking including accessible parking spots are available on Zetland Avenue, Paul Street and Portman Street.

Wheelchair access

included

All pathways through The Drying Green are wheelchair accessible with entries on Paul Street, and Zetland Avenue and Geddes Avenue. Shaded wheelchair seating is provided next to fixed seating on accessible surfaces on Geddes Avenue. The barbecue and nearby tables are wheelchair accessible.