Gunyama Park Aquatic and Recreation Centre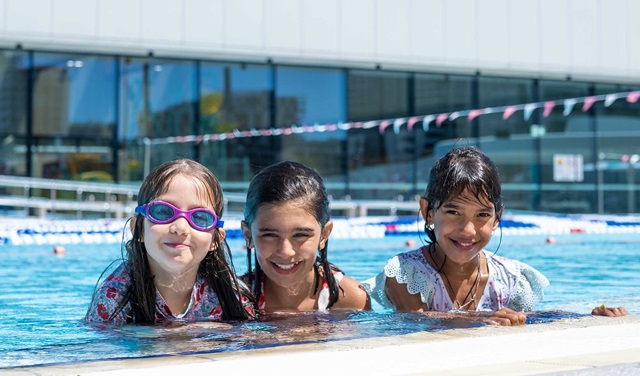 Our striking new facility features 4 pools and aqua play area for the kids. There are plenty of indoor and outdoor spaces to relax and play all year round.
17 Zetland Avenue
Zetland 2017
Opening hours
Note the times below for access to specific facilities.
Monday to Friday

6am to 8pm

Saturday and Sunday

7am to 8pm
Indoor pools
Monday to Friday

6am to 8pm

Saturday and Sunday

7am to 8pm
Outdoor pool
Monday to Sunday

6am to 8pm
Gunyama Park Aquatic and Recreation Centre
This centre is part of our Green Square urban renewal project. Along with important infrastructure like roads, we're providing world-class community facilities to support this growing town centre.
Parking and transport
The centre is a 10-minute walk from Green Square train station and is also accessible by bus and bike. The closest bus stops are a few minutes walk from the centre, however more are being installed outside the complex in early 2021. Cycleways and shared paths run from the city to Green Square and there's space for more than 100 bikes nearby. In the future, a park and boulevard will make access from the train station to the centre even easier.
There is limited on-street parking close to Gunyama Park Aquatic and Recreation Centre.
4 mobility parking spaces are allocated near the entrance to the centre on Zetland Avenue. Mobility parking permit holders can also legally park within any of the nearby 2 hour ticket parking spaces in the street without charge and time limit.
Later in 2021, a Park, Swim and Gym Scheme will offer subsidised parking close to the centre.
Covid-safe measures

included

This venue has a Covid-safe plan. You'll be asked to sign in. Hand sanitiser is available throughout the centre and additional cleaning measures are in place.

Outdoor pool

included

Heated 50m pool set within a larger, irregular shaped 'beach' pool.

Seating

included

Outdoor seating in the shade.

Indoor pool

included

25m heated program pool – features an impressive moveable floor allowing for a multi-use space.

Water play

included

Indoor leisure pool with a range of interactive toys, including water spraying devices and tipping bucket.

Pool

included

Creche

included

Includes indoor play area.

Cafe

included

Indoor and parkside seating.

Change facilities

included

Meeting rooms

included

2 small meeting rooms available for community use.

Attractions

included

Bangala, a public artwork by Jonathan Jones and Aboriginal Elder Auntie Julie Freeman, is incorporated into Green Square's Gunyama Park Aquatic and Recreation Centre. It has close links to the area's history and traditional culture.
Accessible to people with disability

included

Accessible entry options include an entry/exit ramp and railings, a hoist, stairs or beach entry.

Changing places facilities

included

Accessible toilets

included

Pool

included

Hoist and tracking system into the hydrotherapy pool.

Wheelchair access

included

Includes recharge point for electric wheelchairs.
Admission fees
Pool entry
Family
2 adults, 2 children
While visiting the pool
notify staff if you start to feel unwell
maintain 1.5m physical distance from all people including staff
wash or sanitise your hands on entry and regularly after that
wipe down equipment that you use or touch with the sanitising wipes supplied
follow the centre's signage and conditions of entry along with staff directions
Do not attend if you are unwell or have been asked to self-isolate
Please do not attend if you are unwell or have any signs of cold or flu, including a cough, sore/scratchy throat, runny nose, shortness of breath or fever. If staff observe any of these symptoms you will be asked to leave immediately.
Do not attend any of our facilities if you have been asked to self-isolate.
Also at Gunyama Park Aquatic and Recreation Centre