Green Square
Sydney's oldest industrial heartland is transforming into a vibrant, sustainable and connected community.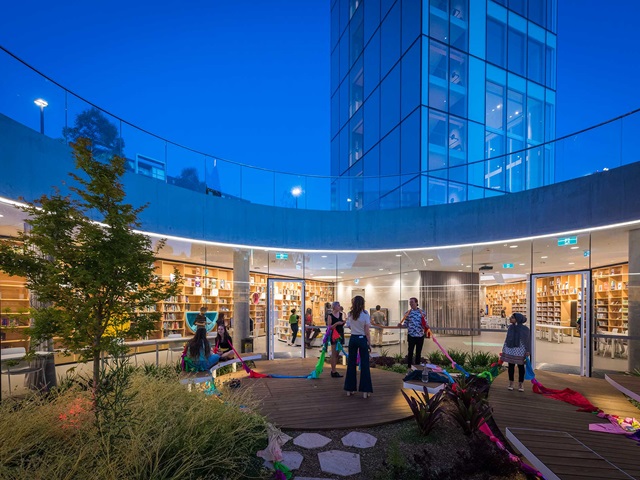 Subscribe to our newsletter
Keep in touch with what's happening in Green Square.
Green Square's urban renewal is taking place across Beaconsfield and Zetland, and parts of Rosebery, Alexandria and Waterloo.
We're revitalising the heritage and charm of this 278 hectares inner-city area using innovative and sustainable design to create a great place to live, work and visit.
Green Square's town centre is the first of its kind to be built in Sydney in over 100 years. It features one of Australia's largest urban stormwater recycling schemes, as well as tree-lined, low-speed streets and extra-wide footpaths, self-watering raingardens, separated cycleways, and LED street lights. That's why it's been awarded a 6 Star Green Star - Communities rating from the Green Building Council of Australia, the highest possible rating. The revitalisation of the precinct has also earned the City of Sydney an innovation and excellence award from the Property Council of Australia for government leadership.
When completed, Green Square will accommodate 63,000 people, living in 33,000 new homes and provide around 21,000 permanent jobs.
Close to the airport and 3.5km from the city centre, Green Square is connected by rail, bus and cycleway.
Green Square has a rich past and an exciting future.
Total private development building cost when completed will be $22b
Total local public infrastructure cost when completed will be $1.8b
Total City of Sydney spend on local public infrastructure to date - $700m (including land)
City of Sydney spend on local public infrastructure over the next 5 years - $80m.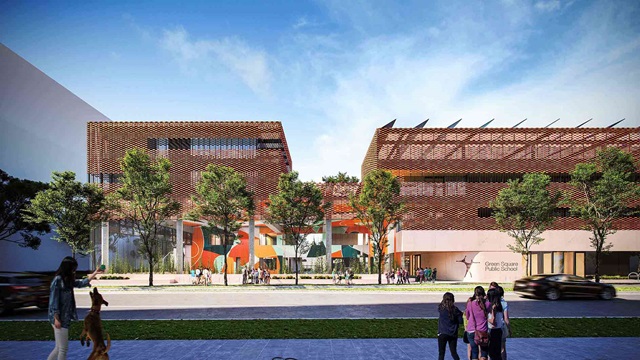 New primary school and community spaces
The NSW Government is building a new primary school and community spaces in Green Square on the old Royal South Sydney Hospital site on Joynton Avenue. The project is jointly funded by the NSW Government and the City of Sydney.
The new primary school will provide fit-for-purpose learning spaces and include additional facilities designed for both school and community use.
The ground floor is designed to foster connection with the broader community, surrounding parks and community facilities. It includes dedicated multipurpose community spaces and areas for the broader community at night and on weekends.
You can contact School Infrastructure NSW for any queries on the project.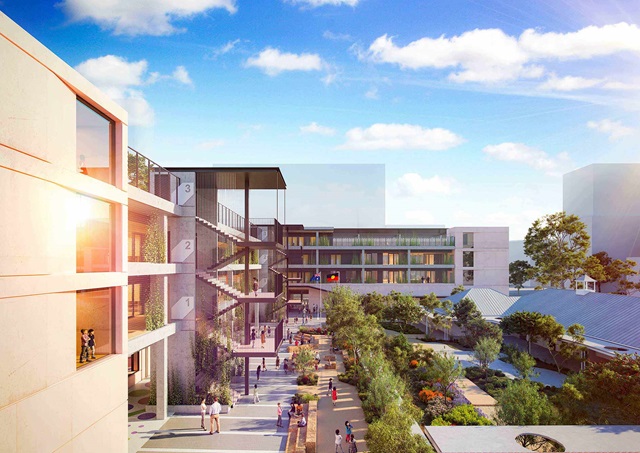 Our developments
We've built an innovative new library and plaza, an aquatic centre, a childcare centre and a creative hub. More than 40 parks will emerge in Green Square, providing plenty of open space for residents, workers and visitors.
The Green Square public art strategy is supported by $4 million of City funding and presents an exciting opportunity to create unique artworks that will become part of the fabric of our parks, squares and public spaces for people to enjoy.
We're also ensuring important infrastructure like stormwater drains, roads, footpaths and a transport corridor for future light rail are in place.
We're working closely with private developers to ensure growth and development is sustainable, innovative and respects the character of our existing neighbourhoods.
What's On in Green Square
Go by bicycle to get where you want to go quickly and easily