Dog off-leash parks
Exercising regularly has benefits for both you and your dog. Our off-leash parks are perfect if you want to get outdoors with the furriest member of your family.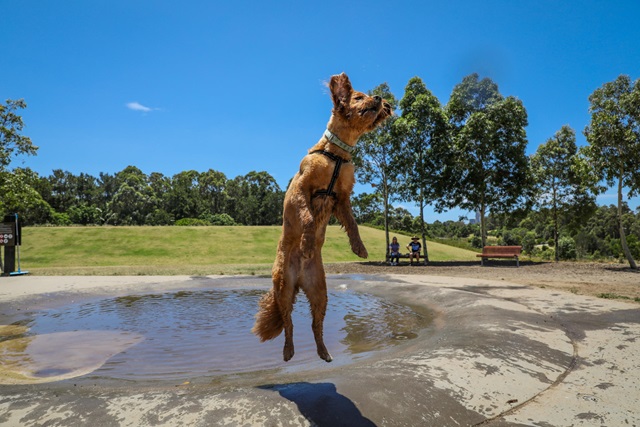 Taking your pet outdoors to a dog-friendly space is important, especially in inner-city areas with high-density dwellings where dogs don't have much space to exercise.
Regular off-leash exercise in designated off-leash parks helps dogs relieve boredom and release pent-up energy. It may also reduce unwanted behaviour such as excessive barking. Outdoors exercise also benefits owners with dog parks bringing people together.
Dogs are welcome at many different parks in the City of Sydney local area, but are prohibited from playgrounds, sports courts and enclosed sports ovals.
While some on-leash restrictions do apply, many parks allow your pet to be off its leash at all times.
We clearly signpost off-leash, on-leash and prohibited-areas and provide dog litter bag dispensers at all off-leash parks so owners can clean up after their pets.
Please keep dogs out of playgrounds
Enjoy our many parks with your dog. But for our children's health and safety, please keep dogs out of our playgrounds.
We must protect children from parasites and diseases that can be transmitted from dog litter.
You risk a $330 fine if your dog is in a playground.
Your dog is welcome to more than 400 of our parks and open spaces however check the signs before you enter.
Bag it, bin it
Always remember to pick up after your dog. You'll find free waste bags in most parks, but it's best to bring your own.
Rangers can issue on-the-spot fines of up to $275 if you don't pick up your dog's waste.
More nearby dog parks
Visit these sites for details of off-leash parks operated by nearby councils and other authorities: