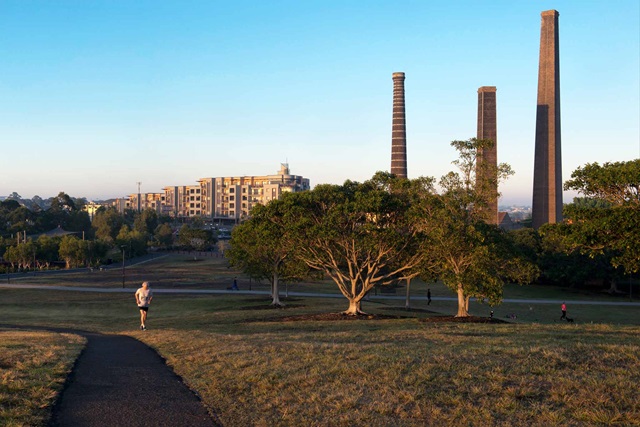 A multi-award-winning regional park with extensive off-leash areas, rolling hills, large playground, children's cycle track, skate park, wetlands, sports oval and outdoor fitness areas.
Barbecues

included

Barbecue and picnic areas dotted throughout the park.

Public toilets

included

Shaded areas

included

Seating and trees throughout the park.

Dog off-leash

included

At all times. Extensive off-leash areas with a paddling pool for dogs.

Prohibited areas: Wetlands, Alan Davidson Oval, Sydney Park Cycling Centre, playground, barbecue areas.

Children's play equipment

included

Extensive playground with diverse range of equipment for children of all ages, ability and experience.
Children's cycling track and cycling centre.

Exercise equipment

included

2 fitness stations featuring a range of equipment for bodyweight exercise. Some equipment is wheelchair accessible.
Adjacent to the Alan Davidson Oval near the Euston Rd entrance and car park.

Skate park

included

Largest skate park in Sydney with zones to suit every ability and style of skating, scooting and BMX riding.
Lights out at 9pm.

Sports facilities

included

Alan Davidson Oval caters for summer and winter sports with adjacent outdoor fitness training areas.

Attractions

included

Public art and memorials including the SPAIDs memorial.
Network of wetlands that play host to a range of resident and visiting birds and wildlife.

Cafe

included

Village green with cafe kiosk.

On-site parking

included

There are 4 car parks:

Barwon Park Road (nearest to playground and brick kilns)
Sydney Park Road (nearest to cycling centre)
Euston Road (nearest to Alan Davidson Oval and Sydney Park Pavilion). Most of this car park is temporarily closed due to park upgrade works.
Campbell Street (nearest to wetlands).

Stormwater harvesting

included

Water is reused to top up the wetlands and irrigate the 44 hectare park and supply the neighbouring depot.
Sydney skate park
Largest public flow bowl in Sydney.
Largest public flow bowl in Sydney.
Expansive plaza area with rails, ledges and banks, plus a beginner bowl area.
Zones to suit every ability and style of skating, scooting and BMX riding.
3 metre-deep flow bowl for skaters and riders looking to push their skills.
Wheelchair accessible.
Lights on at night until 9pm.
Children's bike track
The award-winning track is next to the Sydney Park Cycling Centre. It has a shaded learn-to-ride area where kids can take part in bike clinics and courses. Tackle the twists, turns and challenges that help city kids to learn safe riding skills.
Kids of all ages can enjoy the award winning bike track at Sydney Park.
Drone safety rules
The Civil Aviation Safety Authority (CASA) regulations state that drones are prohibited from flying over or in the approach and departure path of an airport.