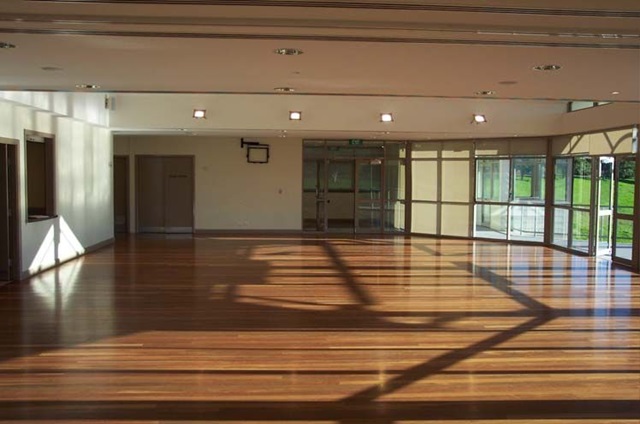 Suitable for large functions, conferences and meetings. The pavilion includes an entry foyer, a hall and an outdoor terrace overlooking Alan Davidson Oval.
Capacity
200 people – 200 people standing, 140 people theatre-style or 90 people for dinner parties.
Used for
Covid-19 update
The safety of our communities, customers and employees is our top priority.
In line with NSW Health restrictions and stay at home orders our pools, libraries, community centres, gyms, customer and neighbourhood service centres will be closed from 5pm on Friday 25 June until midnight on Friday 30 July.
Venues for hire will also be closed and we will contact anyone with a booking.
City of Sydney parks, playgrounds and outdoor fitness stations will remain open in line with directions issued by NSW Health. We will implement additional cleaning for our playgrounds and fitness stations.
Face masks are required on public transport and in all public indoor venues. Visit the NSW Government website for more information on the restrictions.
Availability
Monday to Sunday

7am to 12 midnight
Make an enquiry
We require 2 weeks notice.
Tables and chairs

included

Banquet tables and chairs for 90 people or theatre style seating for 140 people.

Bar

included

Includes refrigerator (2 glass door counter), Electrolux dishwasher, and glass racks.

Kitchen

included

The 14 square metre fully kitchen includes Foster Banquetmaster hot cabinet, Ambach compact cooktop oven, Blanco bain-marie, 2-door upright refrigerator and stainless steel exhaust hood including filters and lights.

Dishwasher

included

Electrolux dishwasher with racks.

Freezer

not included

Instant hot water (Zip system)

included

Close to transport

included

St Peters train station is within walking distance.

Parking

included

Entry to the Sydney Park car park is at the intersection of Sydney Park Road and Mitchell Road.

PA (public address) system

included

Air-conditioning

included
Level access entrance

included

Entry door type

included

Floors

included

2 – the venue is located on the 1st floor.

Lift

not included

Accessible toilets

included

Ambulant toilets

included

Changing places facilities

not included

Hearing support system

not included

Onsite mobility parking

not included

Mobility parking within 300m

included

Contact our staff to discuss your mobility parking needs.
Using the space
The main room can be partitioned to form a smaller breakout room.
The terrace is 90 square metres and is restricted to 75 people.
Cost to hire
Standard
Weekdays after 5pm, weekends and public holidays
Day rate
Monday to Friday, 9am to 5pm only
Weekend full day rate, including public holidays
8am to midnight
Concession
Community hire rate
50% discount on standard hire rate
Self help groups
50% discount applies to community/not-for-profit organisations/social enterprise fee – available to self-help and support groups on application only (conditions apply)
Other
Cleaning fee
Quotation available on request
Security fee
Quotation available on request
Room set-up fee
Quotation available on request
Wedding surcharge
Booking fee + 10%
Additional site inspection
1 included each booking
$83.50
Conditions of hire
Before hiring a City of Sydney community venue we ask that you read and understand the conditions of hire.
Other considerations
This is a non-residential area.
Additional cleaning can be arranged.
Some functions may require security.