Creative concrete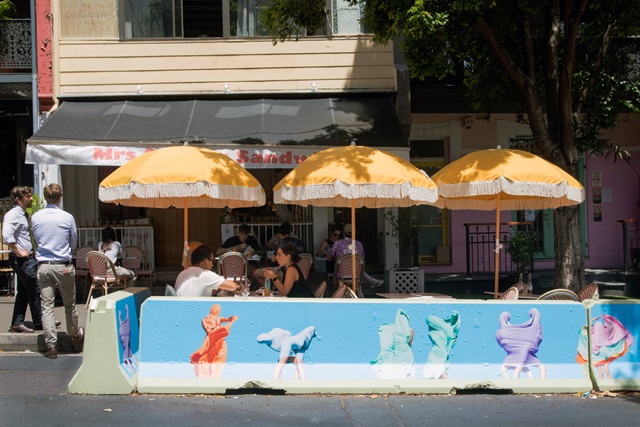 City of Sydney
GPO Box 1591

Sydney 2001
Outdoor dining
To help enliven our city and support Sydney's hospitality businesses through the Covid-19 pandemic, we're working with the NSW Government to provide more outdoor dining opportunities.
From 30 November 2020 to 31 October 2021, we're trialling new on-street dining permits. Cafes, bars, restaurants and theatres can apply to take over car parking space for outdoor dining areas.
Rather than leave the necessary concrete safety barriers bare, we're trialling the use of artwork by 10 contemporary Australian artists and design studios. We originally licenced the artworks for our creative hoardings program because our communities wanted to see more art on the streets. And we want to provide artists more opportunities to showcase their work in very visible locations.
All of the following artists and design studios are available for commissions. If you like their work, get in touch with them and let them know.
Read more about the temporary changes to outdoor dining permits.
Artworks

Steadily feeling like the pixels build and are never not in front of me... another one to see, to be distracted by. A complex electronic place now, this is my simple space – the nineties. That's when pixels were easier to absorb, easier to see, easier to commit to. Platform Mario and coin collections, fighting over the only two controllers in the house just to get in front of a pixel — ping / ping / ping / dat dat dat da da da, da da da da da dat dat dat da da... pixel, jump, coin, collect, restart.

In the future…I want to be a unicorn by Alphabet Studio

Ask a universal question to a group of 5 and 6-year-old Sydney school children and watch their imaginations take flight! Alphabet Studio asked year 1 and 2 students from Crown Street Public School in Surry Hills to express their future dreams. The result is honest, whimsical, humorous and thought provoking. The uninhibited drawings and misspelt declarations create touching moments for us all to enjoy.

Midnight Zoo by Studio A artists Emily Crockford, Lauren Kerjan, Thom Roberts and Phillip Sidney
Midnight Zoo is inspired by visits to Taronga Zoo. The work is a homage to the diverse and mesmerising species that populate our city and our world. Midnight Zoo brings these often hidden, and sadly endangered creatures to the centre of our city. The hoarding design cheekily plays with the relationship between seen and unseen, viewer and viewed. It's typically people who peer at animals in a zoo. But here, the animals look out at pedestrians and passers-by.

Garry Trinh creates works about daily encounters with people and objects on the periphery. These giant bonsai trees were photographed all over Sydney. They seem to magically appear overnight, created by someone with a giant pair of shears.

Magic Circles is a dedication of love and devotion to the (LGBTIQA+) community that affirms 'I am who I am, you are who you are, and we can be the people we want to be'. The design is inspired by a quote from the journalist John Paul Brammer. I came across this scrolling through Instagram on a day I was feeling insecure about my identity and work: "Remember what it felt like when you saw a queer person owning it, and it gave you permission to be yourself? You're that person to someone."

Time Forms considers the many modes and versions of time unfolding: lunar, solar, geological, astronomical and cosmic. Created using collage and photographs of small hand-painted models, wooden sculptures and prop-like objects, the work is a landscape panorama of mineral formations, tectonic forces and planetary movements. Time Forms examines our place in the earth's history by linking concepts of cosmic time and space to the graspable dimensions of the handmade. Seen as the public go about their daily routines, it calls for a change of perspective – even if for just a moment in time.

Ngaarr = hard / strong. This is a story of presence and strength by Yuwaalaraay designer Lucy Simpson. Derived from the patterning of the inner bark of a gulabaa (eucalypt tree), these designs highlight the conversation about care of country. They speak of contemporary Aboriginal experience and presence, and highlight the importance of First Nations placemaking in the built environment. Bold and graphic, this series of temporal / seasonal moments serves to remind us of the power of place, telling and recording a long story of resilience. This project is a proud collaboration between Gaawaa Miyay and Think Positive Prints

This series of shrouded figures playfully distorts the human form, creating a dream-like landscape intended to interrupt everyday thoughts and spark the imagination. The fluid and abstract shapes – created by the body interacting with fabric and wind – are left open for the viewer to make their own associations. The figures convey an underlying sense of struggle and liberation as the subjects attempt to break from their human form and connect to their greater surroundings.

Koala Fantastical Fabulous Fun by Rosie Deacon
Koala Fantastical Fabulous Fun lends itself to the everyday Australian experience and how contemporary art can create transformative moments in time, altering the way we see the world. Australiana memorabilia and souvenirs are used to explore what it could mean to be an icon of the Australian wild. I have an obsession with animal imagery made horrifyingly unfamiliar, transforming our natural inhabitants into a spectacularly camp pastiche of faux fur and perennial pride.

Kent Morris is a Barkindji man, whose art practice reveals the continuing presence and patterns of Aboriginal history and culture in the contemporary Australian landscape The shapes and structures of the built environment are being reimagined to reflect long standing knowledge systems and to reaffirm cultural continuity and presence. The interaction of native birds and the built environment represents continual changes to ecological systems. Just as birds have adapted to the built environment, technology and colonialism, Indigenous cultures adapt and survive.