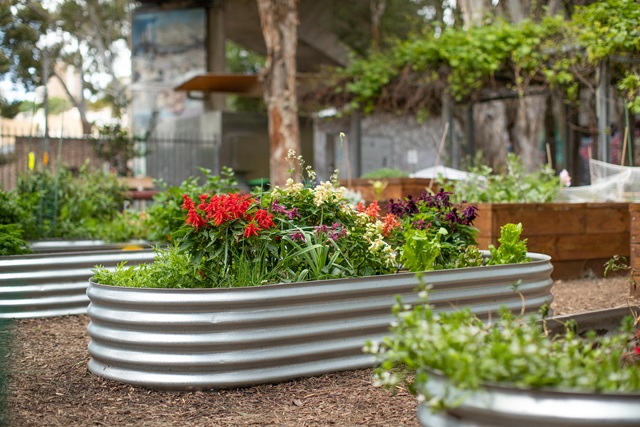 A community garden where you can learn new skills and meet new friends. Beginners are welcome.
Bourke Street
Woolloomooloo 2011
Raised garden beds

included
Grow and share healthy produce
Local residents are offered space to grow their own herbs, fruit and vegetables – and chat to others about their green ideas.
As the second community garden to open in Woolloomooloo, this fertile space is an important part of our promise to revamp this culturally rich village. Residents have a beautiful public space to enjoy.
Designed to last
Our community garden coordinator wants the garden to reflect the vision of the community and their needs. Regular meetings are held with interested residents to talk about the produce they're growing, and garden maintenance required.
The garden has matured into a mix of communal and individual allotments, which are filled with a collection of vegetables, herbs and 2 fruit trees.
Inspiring new gardeners
Bourke Street community garden coordinator, Georgina Bathurst, says the thriving garden receives new seedlings each month and is a truly communal effort. There are now four chickens to provide locals with eggs and plans to keep bees for honey.