Welcoming international students to Sydney
We can help you access support.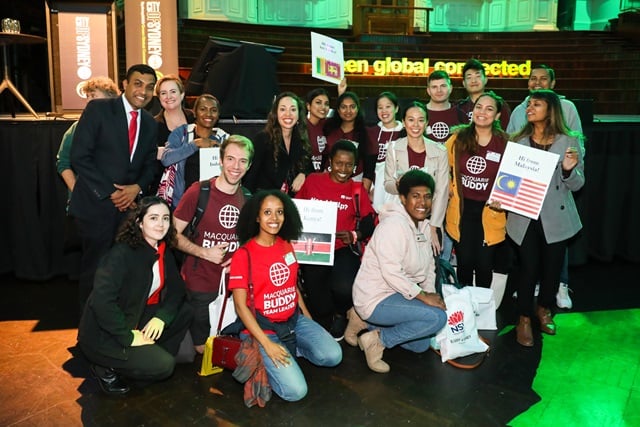 Karen Ng
International Engagement Project Manager
Sign up to our international students newsletter
Keep in touch with updates on local programs and events.
Sign up to our international student education and support sector newsletter
Opportunities for the education sector and its key stakeholders.
Lord Mayor's Welcome for International Students 2021
Tuesday 16 March 2021
The Lord Mayor's Welcome for International Students recognises and celebrates students' contributions to Sydney's vibrancy, liveability and cultural diversity. The welcome marks the start of an amazing journey and the making of life-long connections.
This year, the event will be held virtually on Hopin on Tuesday 16 March, allowing students, regardless of where they are, to experience this exciting annual event and connect with Sydney.
The event will include the Lord Mayor officially welcoming students, traditional Aboriginal dance performances, virtual reality and a Welcome to Country. There'll be an opportunity to join discussion rooms, chat with community groups, industry organisations and universities about support in and outside the classroom.
We'll also offer more associated events in partnership with community groups and industry organisations. The programs aim to provide in-depth knowledge about aspects of living and studying here and further enhancing a true connection with Sydney.
Whether it be making sure students know their legal rights, learning more about Indigenous living cultures, or support for business entrepreneurs, there's something for every student.

Join us to celebrate studying in Sydney. #MyFutureSydney
Where: Online
When: Tuesday 16 March from 3pm to 4.30pm Sydney time
Cost: Free
Bookings are essential.
For all the latest updates, join our Facebook Event.
This event is supported by Study NSW and the University of Technology Sydney.
Welcome to Sydney
Every year, Lord Mayor Clover Moore officially welcomes more than 1,000 international students to Sydney. The reception marks the start of their journey and making life-long connections.
On behalf of the people who live and work here, it is my pleasure to welcome you to Sydney – one of the most exciting and diverse cities in the world.
Our community includes people from over 180 nations. This mix of cultures, histories, experiences and stories makes our city a great place to live, visit, work and study.
With a lifestyle that is second-to-none, Sydney is Australia's most exciting education destination. We have leading research facilities and instructors, giving overseas students great educational opportunities.
Sydney offers a fantastic lifestyle with experiences at cafés, shops, bars and restaurants as well as some of the best and most inspiring arts, culture and natural environments to be found anywhere in Australia.
Sydney is a city that is alive with opportunity and possibility. While you study here, you will be able to enjoy sport and cultural events, including our spectacular New Year's Eve celebrations and the biggest Lunar New Year celebrations held outside Asia.
I also encourage you to engage in your local community and participate in volunteering opportunities to enrich your experience here and learn more about the local culture and people.
This dynamic, accessible and safe city is just waiting to be explored – welcome to our great city.
Lord Mayor
Clover Moore