Sydney Lunar Festival George Street Lunar Lanterns
We invite artists, creatives, and producers to design the Lunar Lanterns exhibition as part of the 2023 festival.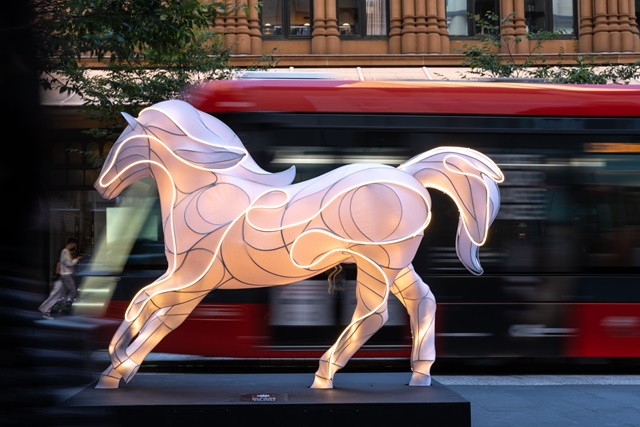 Sydney Lunar Festival
City of Sydney
We're seeking concept designs for lanterns illustrating the 12 zodiacs of the lunar cycle as part of the Lunar Lanterns exhibition on George Street.
Applications are now closed
Concept designs will go through a 2-stage selection process. Selected designs will then be adopted and transformed into the Lunar Lanterns.
The exhibition will be free for the public and able to be viewed night and day.
Sydney Lunar Festival is attended by more than 1.3 million people each year and celebrates the city's diverse cultural communities.
The 2023 Lunar New Year celebrations include Chinatown Lanterns, Lunar Lanterns on George Street, Lunar Lanes in Chinatown, Dragon Boat Races and an exciting program of more than 80 associated events.
Lunar Lanterns will be exhibited from 21 January to 5 February 2023.
Application guidelines
We're looking for projects that:
reflect the 12 zodiacs of the lunar calendar
creatively interpret a traditional outdoor lantern
draw inspiration from Asian Australian cultures in a contemporary way
have both daytime and night-time appeal
are innovative in the use of the height of the proposed lantern
appeal to a broad audience in a high profile, heavily trafficked location
demonstrate artistic excellence, innovation and creative expression.
Lunar Lanterns exhibited on the illuminated plinths should consider the following design specifications and recommendations.
Size. Lanterns should aim to use as much of the available 2.4m x 2.4m volume as possible. Consider the 3D shape also – as lanterns can have a depth of up to 2.4m.
Dynamic. Lanterns should be eye-catching and visually arresting. They can overhang the footprint of the plinth, making them more dynamic. Consider bright or bold colour palettes.
Custom design prints. Lanterns made in a traditional wire-frame lantern style can be built using custom designed and printed fabrics, allowing another canvas for artistic expression.
Plinth design. The light box face of the plinth base is a design surface that will form part of the lantern concept, drawing your eye up. Consider how this will add to the story or enhance the impact of the lantern design.
Lighting. As lanterns, lighting is paramount. Consider different forms of lighting beyond basic internal illumination. Rope, LED strip, and programmable lighting can all be used to enhance the design.
The exhibition will start at Sydney Town Hall and run along George Street towards Hay Street, Haymarket. This precinct is home to a number of multicultural businesses and restaurants and is a key Sydney Lunar Festival site with a number of programs planned, including associated events and roving cultural entertainment.
The zodiac animals to be represented are:
Rabbit
Dragon
Pig
Horse
Sheep
Tiger
Snake
Ox
Monkey
Dog
Rat
Rooster