Building upgrade finance
A smarter way for owners to access capital for improvement projects, allowing them and tenants to reap the benefits of operating a more sustainable and efficient property.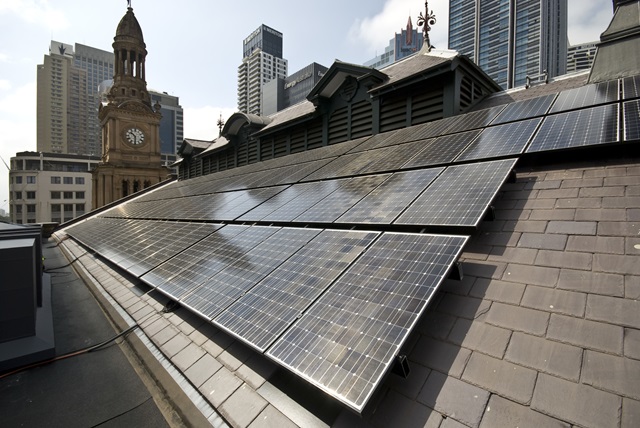 Apply now
Follow our steps to enter into an Environmental Upgrade Agreement (EUA) with the City.
How it works
Building upgrade finance, also known as environmental upgrade finance, helps building owners to access capital with very favourable terms to upgrade their commercial building and save on energy, water and waste, and improve the value of their asset.
Both owners and tenants reap the benefits of a more sustainable and efficient building.
As part of this finance, the building owner, the lender and the City of Sydney enter into a contract known as an environmental upgrade agreement. Under this contract, the lender advances funds to the building owner to complete the upgrade works and the loan is repaid through our existing rates collection process, as an environmental upgrade charge.
Why upgrade?
Sustainable buildings deliver greater financial returns, have lower vacancy rates, and offer greater value than non-sustainable buildings.
Improving the efficiency and environmental performance of a commercial building through upgrades can make it more attractive to tenants.
Greener buildings have the added benefit of lowering utility bills and providing protection against rising energy prices in the future.
Benefits for building owners
No need for upfront capital
Tenants can share costs to service the loan, through existing net lease provisions, or through specific agreement
Fixed rate, longer loan term 10 to 20 years compared to typical commercial financing
Debt is linked to the property, not the owner. The debt can be transferred to a new owner if the property is sold
Energy savings effectively pay back loan.
Benefits for tenants
Improves amenity with no upfront capital outlay
Contributions a tenant makes are equal to or less than the resulting energy bill savings.
Eligibility
You can find out whether you're eligible for building upgrade finance in our building upgrade finance policy.
What types of projects are eligible?
Building upgrade finance is available for works that improve the environmental performance of an existing commercial property, including projects that:
increase energy and water efficiency
prevent or reduce pollution and waste
reduce material consumption
improve recycling
reduce use of private motor vehicles
enable monitoring of environmental quality
reduce greenhouse gases.
Example projects include lighting upgrades, building management system improvements, renewable energy installations, and blackwater treatment systems.