Help with grants in your language
Need help with information about our grants in other languages? Here are some useful tools and resources.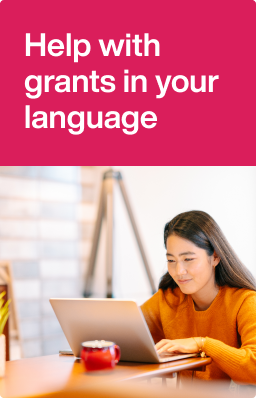 Translate our website
Free online services are available to translate websites into many other languages.
If your computer or browser is already set to another language, you can translate our web pages by clicking on the translate icon:
To translate web pages, text and documents without changing language settings you can use:
Automatic translation may not be accurate so these tools should be used as a guide only.
Call us using a free interpreting service
The free Translating and Interpreting Service (TIS National) can help you talk to us in your own language.
Call 131 450.
After the recorded English introduction, you'll need to say the language you need. After you have requested your language, the operator will search for an available interpreter. Please stay on the line even if there is no hold music. If an interpreter in your language is available, the operator will connect you. Ask the interpreter to put your call through to the City of Sydney on 02 9265 9333. The interpreter will stay on the call with you.
If no interpreter is available in your language, the operator will ask you to call back soon.
TIS National provides immediate telephone interpreting services, as well as booked telephone and on-site interpreting.
Business Connect multicultural advisors
Business Connect, a NSW Government funded program, provides free independent business advice and events to help you start, run, adapt or grow your small business. Support is tailored to unique business challenges and can include accessing finance and connecting to other government support and grants.
Multicultural advisors can provide practical business advice in Cantonese, Mandarin, Korean, Vietnamese, Arabic, Dari and Persian. To find an advisor who speaks these languages, add 'multicultural' to the search box. If you need an interpreter in another language for your advisory session, your advisor can book a translator from Multicultural NSW who offer interpreting services.
For more information, visit the Business Connect website or call 1300 650 058.