History of Belmore Park
In the late 1860s Belmore Produce Markets and Paddys Markets were built opposite the park, making this area a bustling and vibrant hub.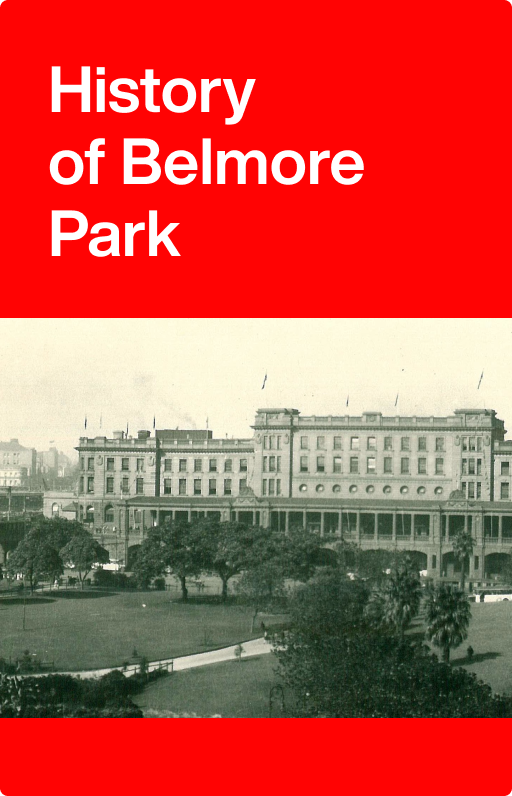 Belmore Park is bounded by Eddy Avenue, Pitt Street, Hay Street and the railway line in Haymarket.
Early in the 19th century this area was part of Crown land containing the police barracks and residence, Devonshire Street Cemetery, the Female Refuge of the Good Samaritan, Benevolent Asylum and a public open space. Belmore Park was known as the Police Paddock, as it was located adjacent to the barracks.
The area has long been associated with markets. In the late 1860s Belmore Produce Markets and Paddys Markets were built in the area opposite the current Belmore Park.
During the 1860s Belmore Park was:
'a receptacle for all the rubbish and street sweepings of Sydney. Running from Gipps Street across the park towards Haymarket, an open gutter was supposed to carry off stormwater from Surry Hills, but didn't, as it lay in the gutter stagnant and noisome. In the summer the plague of flies was something terrible, yet the spot was the only "lung" in Surry Hills youngsters could use as a playground.'
On 19 May 1868 Belmore Park was dedicated for public recreation. The park was named after the Governor of NSW, the Rt Hon Somerset Richard Lowry-Corry, 4th Earl of Belmore in Ireland, who arrived in the colony in January 1868. Belmore Park of the 1880s and 1890s had a strong diagonal path system with an avenue of trees along its axis. A fountain was located with the pathway at the centre of park and the entrances were marked by stone pillars.
In 1901 the whole area was resumed for the construction of Central railway station. This included Hay Street Presbyterian church and manse or clergy residence, the cemetery, Belmore Park, police barracks, female refuge and the Benevolent Asylum. The sandstone manse building survived, and remains in-situ on the corner of Pitt and Hay streets. The majority of earth fill (80,000 cubic yards) from the railway station excavations was placed on Belmore Park, burying the original layout.
From 1900 to 1906 the park was bare earth with a few trees, and was rented for circus performances. It is believed the 3 Moreton Bay figs on the Eddy Avenue frontage are survivors of the original park. The park was returned to council management in 1907 and replanted with 'one of the city's most spectacular single row plantations' of London plane trees. The bandstand was built in 1910.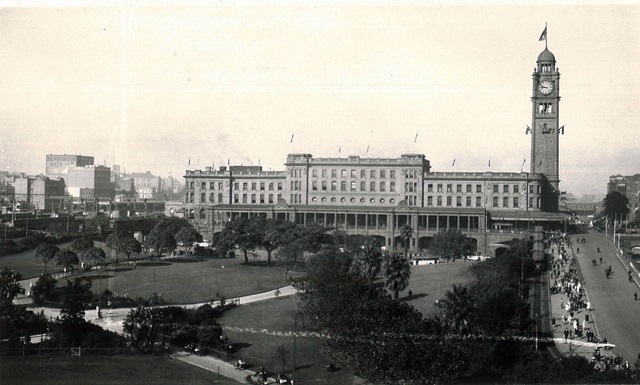 A further area of the park was resumed in 1923 to build the city circle rail system. The eastern tramway approach to the railway was relocated and a portion of the park along Elizabeth Street permanently separated from the rest of the park. Belmore Park's proximity to Central railway station makes it a convenient starting point for rallies on public issues. In 2000 it was an Olympic Live site.
Further reading
EDAW Australia Pty Ltd, 'Belmore Park Draft Plan of Management' (2 volumes), 1993
LandArc Pty Ltd, "Register of Significant Trees", 2005