History of Cook + Phillip Park
Cook + Phillip Park dates back to 1878 and was once segmented by Boomerang Street, the major public transport route to the eastern suburbs.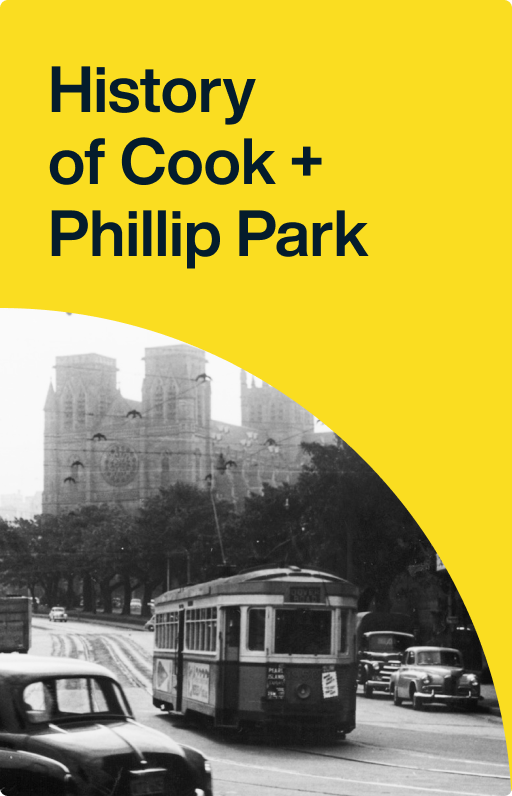 Cook + Phillip Park is bounded by College, Cathedral and Park streets, and Yurong Parkway.
This land was on the outskirts of the early town of Sydney and its first recorded use was in 1819 after the completion of Hyde Park Barracks when it was cleared to create a convict garden. The garden was walled and a gardener's lodge constructed, but the soil was poor and the garden was abandoned by 1831 when the land was left vacant.
In 1832 College Street was built which divided this area from Hyde Park. The foundation stone for Sydney's first Catholic chapel on the north side of the former convict garden was laid in 1821 but the chapel was not completed until 1837. It burnt down in 1864 and work then began on the current St Mary's Cathedral.
The area was dedicated as a park in 1878 when Boomerang Street was constructed along the line of an old walking track. There were 2 separate parks divided by Boomerang Street: Cook Park on the south-west side and Phillip Park on the north-east. They were named after British navigator Captain James Cook who charted the east coast of Australia in 1770, and the colony's first governor Captain Arthur Phillip.
As Sydney's transport evolved, Boomerang Street became the main bus and tram route to the eastern suburbs. In 1912 Haig Avenue was built at right angles to Boomerang Street to provide tram lines for workers to Woolloomooloo and Garden Island.
In 1880 one of Sydney's first bowling clubs was built on the College Street frontage of Cook Park. Several buildings encroached on to Phillip Park, including the police station on the corner of Cathedral and Riley streets which was built in 1880 and demolished in 1960 to build the Police Boys Club.
In 1907 a playground was constructed, which was enlarged to become the Phillip Park Recreation Centre. The council nursery moved here from Hyde Park in 1910. In 1962 a fragrance garden was added to Phillip Park which catered for the workers at the Industrial Blind Institute which had been built in 1878. The institute was demolished in 1971 and became the site of Park Lane Towers apartments.
Cook + Phillip Park saw major redevelopment in 1997 involving removal of the bowling club, Boomerang Street and Haig Avenue, and construction of a modern swimming pool complex and grey paved concourse in front of the cathedral.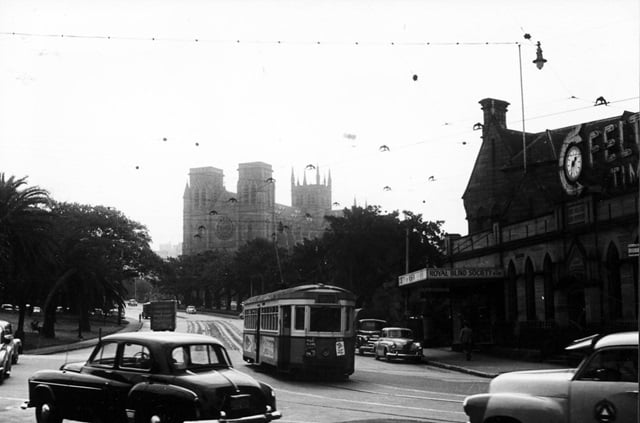 McQueen Memorial
The park contains a memorial on the former corner of Boomerang Street and Haig Avenue to Police Constable Allan McQueen who was shot nearby on 24 April 1989 and died several days later. Seeking his attacker, John Albert Porter, police later raided a Marrickville house where they shot dead another man, David Gundy.
Further reading
Spackman and Mossop Landscape Architects, "Phillip and Cook Parks Draft Plan of Management", 1996
Laurence Nield and Partners Australia Pty Ltd, "Heritage Assessment: Phillip and Cook Parks", 1997