History of Embarkation Park
Embarkation Park is in Victoria Street, Potts Point, opposite Challis Avenue. It is on the roof of the Navy car park in Cowper Wharf Road, Woolloomooloo.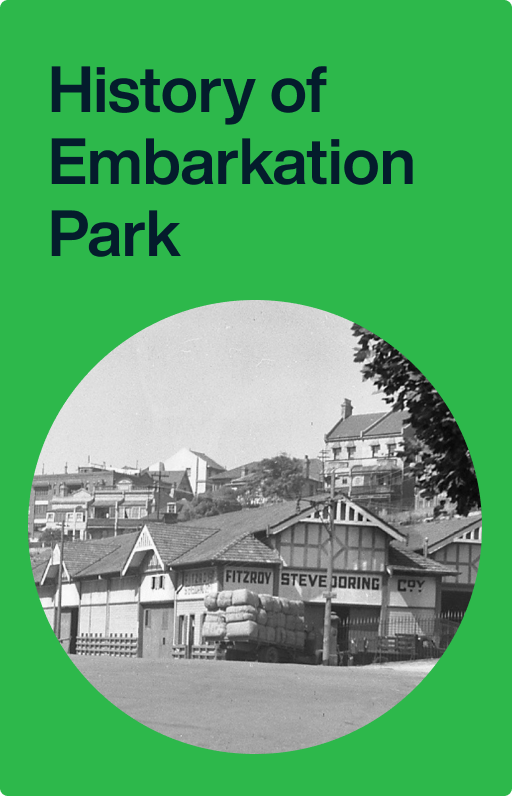 Embarkation Park is on the roof of the navy car park in Victoria Street, Potts Point, opposite Challis Avenue.
The site was occupied by wooden warehouses used by the Fitzroy Stevedoring Company from 1899 until the 1970s. The buildings were owned by the Sydney Harbour Trust, later the Maritime Services Board. The first major upgrade of Sydney's navy facilities since World War II was proposed in the 1970s and saw the demolition of buildings on wharves 2, 3 and 4 opposite to create the fleet base.
The warehouses were also demolished to build the navy car park which was completed in early 1985, when the park was leased to the City Council. Known informally as the Mick Fowler Reserve after the Victoria Street green bans campaigner, it was later officially named Embarkation Park.
The memorial to the embarkation of troops for World War I was erected on this site in 1921 and taken over by the council in 1934. Its inscription reads: To commemorate the place of farewell to the soldiers who passed through the gates opposite for the Great War 1914-1918. Centre for Soldiers' Wives and Mothers NSW. It was moved across Cowper Wharf Roadway as part of the 1970s Garden Island modernisation.
Nearby McElhone Stairs were built in 1904 and named after long-serving Alderman Arthur McElhone in 1918. Embarkation Park is a popular vantage point for Sydney's New Year's Eve fireworks and saw its biggest ever crowds on 31 December 1999.