History of Frog Hollow Reserve
Once known as 'one of the most depraved areas of Sydney.' Over the years, it's been transformed and is now home to a family friendly park.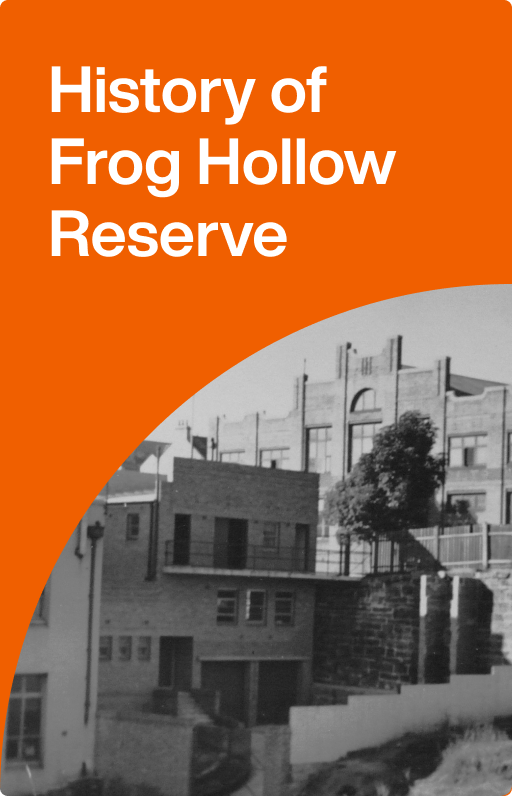 Frog Hollow Reserve is at 303-307 Riley Street, on the corner of Albion Street, Surry Hills.
By 1901, Surry Hills was an established suburb on the fringe of the city. Once an outlying retreat from town, its undulating landscape was now obstructed by a confusion of laneways, courts and dead-end streets packed tight with narrow terraces and weatherboard shacks. Many of the houses were thrown together by speculators and ventilation was usually poor and rooms were damp although frames were solidly constructed. Drainage and sewerage fell short due to overcrowding. Surry Hills became a slum associated with petty crime, alcohol, gambling and domestic violence.
From 1895 to 1904, Frog Hollow was known as "one of the most depraved areas of Sydney". It was about 9 metres below the surrounding streets and approachable from 3 directions only by steep flights of stone steps. In this area bounded by Anne, Albion, Riley and Little Riley streets, the houses were literally piled on top of each other. Police claimed that this enclave had bred some of the most "desperate and dangerous criminals" they had encountered. One of these was Samuel 'Jewey' Freeman, leader of the Riley Street Gang.
The City Council's slum clearance came to Frog Hollow, with the first houses at 295-315 Riley Street being demolished in 1925. Part of the site was later used as a council depot, and part as a park named Hills Reserve after Pat Hills, alderman from 1948 to 1956, Lord Mayor from 1953 to 1956 and NSW MP from 1954 to 1988.
O'Hears Steps are named after local baker James O'Hear who lived opposite at 129 Albion Street, on the future site of Crown Street hospital, until his death in 1891.
Further reading
Christopher Keating, 'Surry Hills: the city's backyard', Hale and Iremonger, Sydney, 1991.