History of Giba Park
Opened in 1996, the park is named after the Aboriginal word for stone reflecting the importance of the material quarried from Pyrmont.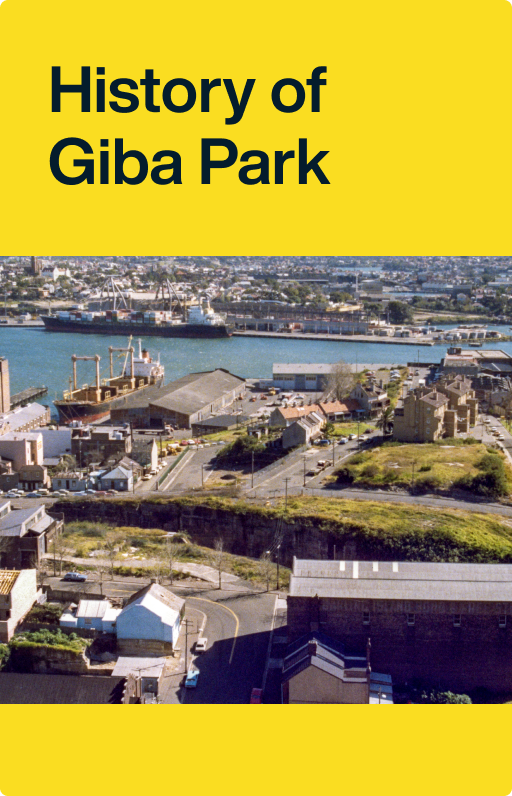 Giba Park is on the cliff-top at the end of Point Street, overlooking Pyrmont Point Park and Sydney Harbour.
This land was granted to Thomas Jones in 1795 and was purchased by John Macarthur in 1797. It was a Macarthur family picnic here in 1806 which gave the place the name Pyrmont after the German spa town, because of its "pure and uncontaminated spring". Elizabeth Macarthur Bay is named after his wife. After John Macarthur's death in 1834, his son Edward subdivided part of the area, but Pyrmont Point was slower to be developed due to its rocky and steep ground. Due to its isolation and spring, it remained a place visited by Aboriginal peoples, perhaps right up to the 1830s.
By the 1870s there was small scale residential housing on the ridge with houses in Bowman, Cross, Point and Scott streets dating from this time. By the end of the 19th century, Pyrmont Point was fully developed with the Maitland Brewing Company, Wallorah Coal Company and various ship building works occupying the east side of the point and the Goodlet and Smith timber company depot and wharf on the west side.
By the 1970s the industries were in decline and the district was characterised by abandoned industrial sites and houses. The area of Giba Park was a disused cold store and the population of Pyrmont was 1000 people, just one-twentieth of the population in 1900. State and federal governments regenerated the area commencing with Darling Harbour in the 1980s.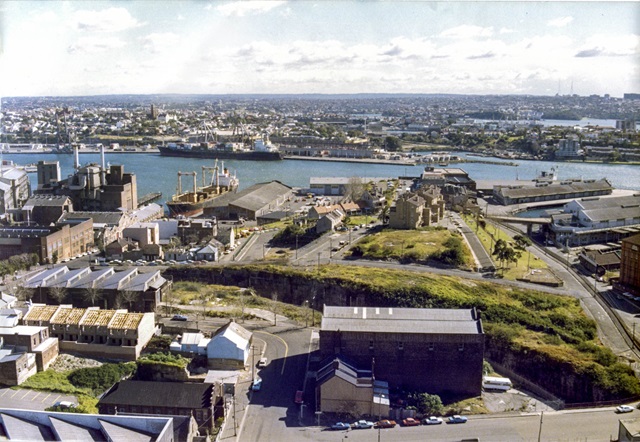 The area at the northern end of Point Street saw apartments built which lifted the population from around 1000 to over 14,000 in just 10 years. Giba Park, opened in 1996, provides the new residents with a magnificent open space overlooking the former industrial foreshore, now rehabilitated into housing and parkland. Giba is an Aboriginal word for stone, reflecting the importance of the stone quarried from Pyrmont which built many of Sydney's fine sandstone buildings.
Further reading
Godden Mackay Pty Ltd and Howard Tanner and Associates Pty Ltd, 'Pyrmont Point Precinct: archaeological and heritage assessment', 1993.