History of Jessie Street Gardens
These gardens were named after the noted feminist and international peace campaigner.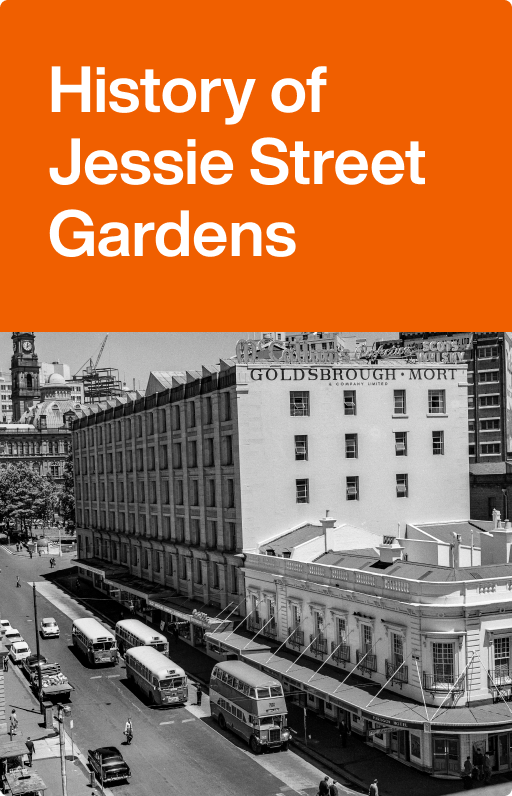 Jessie Street Gardens is in Loftus Street at Circular Quay in front of the Gateway building.
This area was part of the marshy outlet of the Tank Stream until the completion of Circular Quay in the late 1840s reclaimed the land and made it possible to build here.
The Customs House, built across the road in 1845, and the new port facilities created a demand for warehouses and commercial stores. The 2-storey stone store built on this site in the late 1840s was known as Custom House Chambers and housed merchants and customs agents. The street was known as Castlereagh Street North until it was changed to Loftus Street in 1881 in honour of NSW Governor Baron Loftus.
In 1921, Goldsbrough Mort took over the company which owned the building and refurbished and enlarged it to 6 storeys to accommodate wool brokers on the upper floors and retail shops on the street frontage.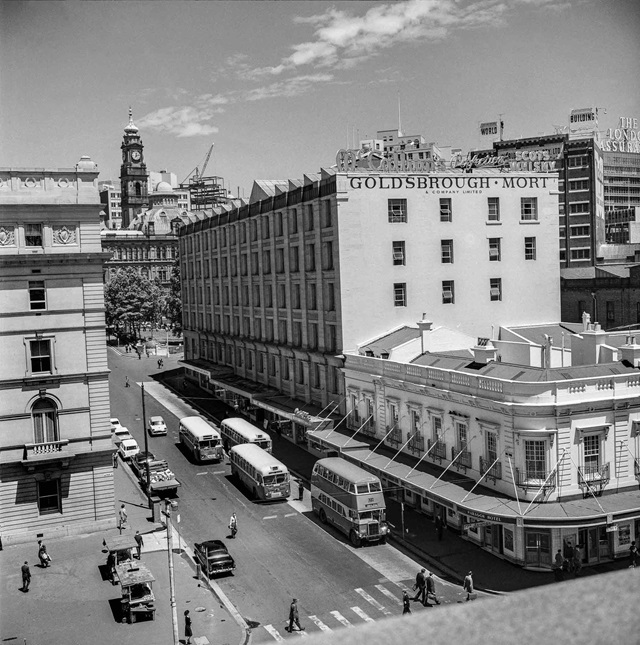 Goldsbrough Mort House was demolished in 1974 and the site was subsequently used as an open air car park for some years. In 1985 Council approved the closure and sale of parts of Arbitration Street, Henrietta Lane and Mercantile Lane to Handel (No 1) Pty Ltd for the Gateway development. Under the agreement the developer agreed to dedicate this site as a public reserve. The park was completed in 1989 with the preliminary name Gateway Park.
Late in 1990 the official naming of the site was discussed and the names of Mary Reiby and Jessie Street were submitted to the Geographical Names Board. The board approved the name Jessie Street Park on 14 August 1990. Council changed the name to Jessie Street Gardens and the gardens were officially inaugurated on 7 December 1990 by Lady Mayoress Candy Bingham.
Jessie Street (1889-1970) was a noted feminist and international peace campaigner. She gained international publicity for the situation of Aboriginal peoples and her suggested amendments to the Australian Constitution were adopted in the 1967 referendum.
The Pioneer Women's Memorial comprising 2 bronze statues dedicated to Australian pioneering women is located on the centre western boundary of the park and was unveiled on 19 November 1988.
The NSW Ex-Servicewomen's Memorial bronze statue with various plaques dedicated to the wartime servicewomen of NSW is located on the south-western corner of the park.
The May Hollinworth Memorial, a bronze plaque mounted on the wall of the Paragon Hotel commemorates the founder, producer and director of the Metropolitan Theatre which operated in Northcote House on the Gateway site from 1943 to 1949.