History of Munn Street Reserve
This reserve sits on land that was part of the 1834 land grant to Scottish arrival James Munn, who operated a shipbuilding yard with a floating dry dock.
Munn Street Reserve is on the closed part of Munn Street west of High Street, Millers Point.
This area was part of the 1834 land grant to the Scottish James Munn, who operated a shipbuilding yard with a floating dry dock (130 feet long and 50 feet wide). The dock was taken over by Lawrence Corcoran in 1844 then in the 1850s by John Cuthbert who operated it until the 1870s.
The Sydney Harbour Trust was formed in 1901 to rebuild the port of Sydney. The first major works undertaken were wharf renewal for rental to private companies and road construction on a massive scale. Eventually whole streets would disappear as the cliff was cut down to form Hickson Road at wharf level. The Munn Street bridge across Hickson Road was built in 1910, just after the Harbour Trust had finished building the shops on the corner of Argyle and Kent streets, and a row of flats in the new High Street.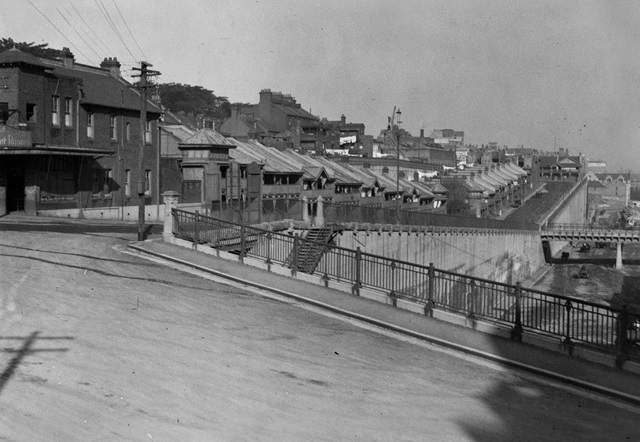 In the mid-20th century the Maritime Services Board began to convert the finger wharves of Darling Harbour into longshore roll on/roll off container terminals. The first new wharf in this redevelopment project was built in 1964, and by the late 1960s work was occurring at the end of Millers Point. The old Dalgety's wharf was reconstructed and the large 1903 stores which had stood on it were removed.
In 1975 the Maritime Services Board acquired the Munn Street Reserve land to allow excavation and building works for the continuing redevelopment of Darling Harbour as a container port. The board then handed it back to the council in September 1981. The reserve is above the southern end of number 4 Darling Harbour.
The Palisade Hotel on the north side of the reserve was built in 1915 to 1916 to replace an 1880 hotel of the same name. It was designed by Henry Deane Walsh, engineer in chief of the Sydney Harbour Trust, in Federation free style. It is named after the palisade fence built between Munn and Bettington streets. Next to the hotel are 18-20 Munn Street, the last survivors of workers' houses built by the Sydney Harbour Trust in 1910. To the south of the reserve the 1875 Dalgety Bond Store has been converted into commercial offices.
Further reading
'Two Harbourside Reserves for Sydney', 'Ports of NSW', vol 3, no 7 (December 1981-January 1982).
Shirley Fitzgerald and Christopher Keating, 'Millers Point: the urban village', Sydney, 1991.
Duncan Marshall and Rosemary Kerr, 'Palisade Hotel, Millers Point: Conservation Management Plan', 2003.