Symbols of the city
Our coat of arms, flag and flower, and symbolic honours like the keys and freedom of the city.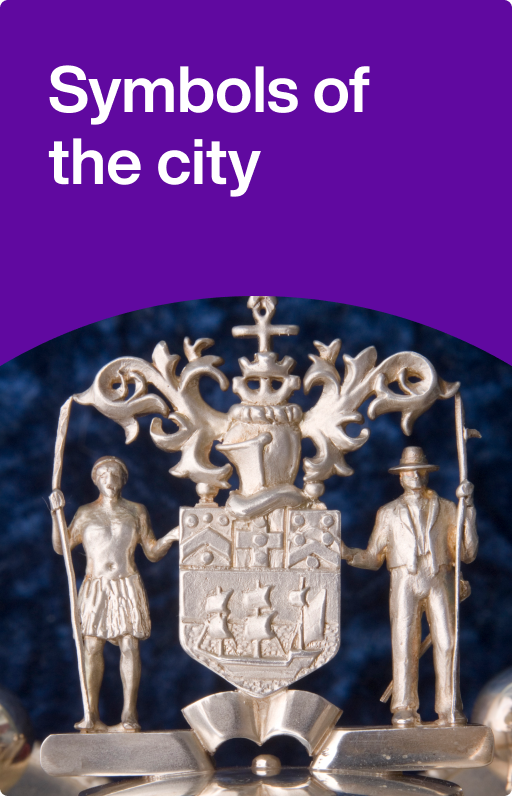 The official symbols of the City of Sydney have a rich history.
Over the years the City has changed its Coat of Arms – the first version included a shield supported on one side by an Aboriginal man, and on the other by a British sailor.
The City's flag includes the shield from the Arms granted by the College of Arms in London on 30 July 1908.
Sydney has its own official flower – the Banksia ericifolia was officially adopted in 1992 as part of the sesqui celebrations of Council, serving as a symbol of Australia's oldest city.
The granting of the Key to the City is a symbolic presentation that represents the highest honour a city can confer on an individual or an organisation.
Freedom of Entry to the City is granted to a military or civilian unit allowing them entry to the city "with bayonets fixed, colours flying and drums beating".
The mace, originally a close quarters weapon favoured in medieval times, became a symbol of royal authority and protection. Sydney's mace was commissioned in 1992.
Mayoral chains of office became popular as accompaniments to municipal dress during the reign of Queen Victoria. In 1902 the Sydney Chamber of Commerce initiated the first link of a civic chain.
The original civic robe for the Mayor of the City of Sydney in 1842 was purple trimmed with ermine with a Court dress hat. The current robes worn by the Lord Mayor and Deputy Lord Mayor are black and those of the Councillors are blue. Nowadays formal robes are worn only at major civic functions.