Notice of temporary closure of George Street, Hunter Street to Bridge Street
Project Status:

In progress

The temporary closure will be installed with temporary barriers and signs from January 2023 until it's made permanent in late 2023.
Kristina Kalnins
Senior Project Manager, City Engagement
What we're doing
The City of Sydney together with the NSW Government, will close George Street between Hunter Street and Bridge Street from Monday 9 January 2023.
We will add colour and seating to the space to encourage people to use the area and support local businesses.
For better access for people walking, these traffic changes will take place:
closing the remaining northbound and southbound traffic lanes on George Street, between Hunter Street and Grosvenor Street
closing the intersections of Margaret, Bond and Jamison streets with George Street
banning the right turn from Hunter Street into George Street, only allowing left turn for local access into De Mestre Place
changing traffic direction from one-way to two-way on Bond Street and Jamison Street
changing the direction of vehicular flow at Wynyard Lane from southbound to northbound
changing traffic direction from two-way to one-way eastbound on Wynyard Street, between York Street and Wynyard Lane
changing traffic direction from two-way to one-way westbound on Margaret Street, between York Street and Wynyard Lane
removing right-turn restrictions from Margaret Street (eastbound) into York Street
introducing a left turn into Jamison Street from York Street.
Local access to properties will remain.
Local access plans
PDF · 10.47 MB · Last modified
These maps show traffic and access arrangements around George Street, including access in and out of Dalley Street, Bond Street, Curtin Place, Jamison Street and Wynyard Lane.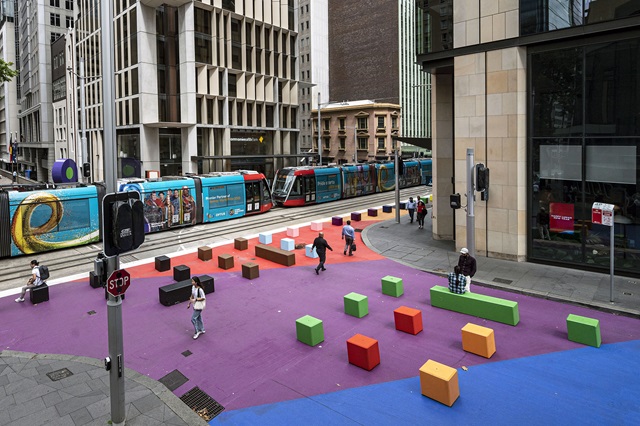 The closure will be made permanent when the area is converted into a pedestrian boulevard later next year.
Our proposal to extend the pedestrianisation of George Street from Hunter Street to Essex Street was on public exhibition during October and November 2022. The proposal was endorsed by Council in December 2022. You can view the council report online (refer to item 8.6).